Pangea Organics: Free Shipping & Free Gift for the Holiday Season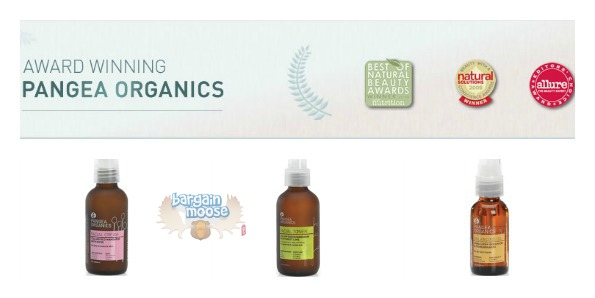 Pangea Organic products are handcrafted, organic, fair-trade, and cruelty-free without harmful ingredients. This stuff looks amazing. Right now they are offering free shipping and free sample with every purchase, plus sales on their products.
Click here to shop @ Pangea Organics Canada
Coupon Code: 2FREESHIP
Discount: Free Shipping
Expiry: Unknown
The Australian Wild Plum and Willow cleanser is 15% off (regularly $30, now $25). This product does not have a bad review out of many great reviews. It features organic compounds of wild plum and willowherb and essential fatty acids to support a healthy and radiant complexion.
Many of Pangea Organic's products are award winning, like their Japanese Matcha Tea with Acai and Goji Berry Mask (sounds crazy good). You get this antioxidant, anti-aging face mask that will noticeably improve your skin's quality, tone and texture for $42.
Another award-winning product is their Canadian Pine with White Sage hand soap. How awesome would that be in your bathroom at Christmas? This hand soap is known for its purifying and grounding qualities as well as calming and healing with its pure, elevating scents. Combined with organic coconut, olive, hemp and jojoba oils, it is also really moisturizing for the skin. Get it for $16.
Holiday gift bundles are 20% off and come with a free silver gift box. I like the cleanser and body scrub gift combo, with Egyptian Calendula and Blood Orange facial cleanser and the Brazilian Brown Sugar with Cocoa Butter body polish for only $41. I also love the Lip Balm Collection because I know so many women who love their lip balm, and with such delicious flavours, who can blame them ($33).
With every purchase you also get a free sample. Choose from:
Australian Wild Plum Cleanser
Egyptian Calendula Cleanser
Egyptian Geranium Body Scrub
Nigerian Ginger Facial Cream
Japanese Matcha Tea Mask
Moroccan Argan Willow Facial Cream
Turkish Rose & White Tea Eye Cream
Italian Red Mandarin Facial Cream
For more Pangea Organics Promo Codes, don't forget to take a look at the Bargainmoose coupon forums!