Oliberte: Blanca Shoes Were $100 | Now $45 & Free Shipping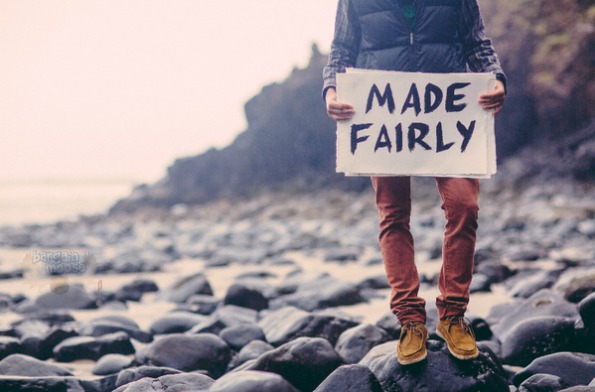 Allow me to introduce you to the Canadian company Oliberte. They have the world's only fair-trade certified footwear manufacturing factory for anyone who cares about the people, who make your products, earning a living wage. I am very excited about this company and really hope that you take a few minutes to check them out. While looking on their website, we found these Blanca Shoes that were $100, on sale for $50. Use coupon code thanks for an extra 10% off, bringing your pair of fair-trade shoes down to $45 with free shipping.
I love the design of this shoe: it is modelled after the smoking slipper with a sweet wingtip design. The shoes are made of leather upper with a goat leather lining. The natural rubber sole has heel-stabilizing features. These shoes are all made in Ethiopia in a fair-trade factory.
You need to know that the shoe fits narrow and about a 1/2 size to full size small. The website suggests sizing up. I also suggest avoiding this style if you have wide feet, like mine, because they are just not the right shape.
The smoking slipper shoe comes in many different colours:
Rose pink Suede
Tan Nubuck
Black Suede
Dark Grey Nubuck
Navy Suede
Sky Blue
The pink and dark grey shoes are nearly out of stock - only a few sizes are left. The other colours have plenty of stock and are very pleasing on the eye as well. While there are no reviews, this shoe does have a 4/5 star rating with three votes.
I highly recommend shopping the rest of their website, as I am a huge supporter of fair-trade. This beautiful Rustic Brown Pullup leather messenger bag was $300 and is now on sale for $150. After coupon code, the bag comes down to $135 with free shipping.
The Mendi Envelope Clutch is just precious. It can hold your bare essentials for a night on the town or be used as an organizer for your backpack or travel bag. Originally $60, it is now on sale for $30. After coupon code, it comes down to $27 with free shipping.
Last but not least, I highly recommend picking up some GorillaWax for $15. It is an all-natural product made with organic ingredients that you can use for waterproofing. I need to pick up a few sticks for my leather boots!
(Expiry: Unknown)