Nuby Teether Tugz Toy Was $9 | Now Only $3 Each @ Walmart.ca & Free Shipping (EXPIRED)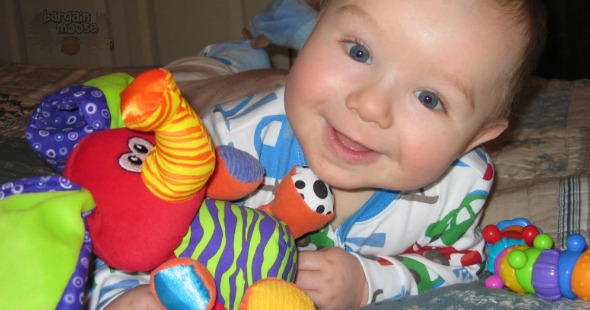 Teething toys are an important part of raising any little one. The Nuby Teether Tugz toys are a cute way to soothe and comfort your child while they are teething. Walmart Canada has these Nuby teethers on sale for only $3 from their previous price of $8.46. Not only is the price much lower, but you will also get free shipping with no minimum spend from Walmart.ca.
The Nuby Teether Tugz toys come in three different characters. Your child can be sweetly amused by the elephant, bunny or bug. The Walmart.ca listing is a little confusing. At first glance I assumed that you would get all 3 characters for only $3, but that does not seem to be the case. If you read on, you will see that the description states that "characters vary". This does not only mean you get one character, but it also means you don't get to choose which teething character you purchase for your little one. They are all equally as cute though.
Each Nuby Teether Tugz toy is colourful and comforting. They are made of a mix of different fabrics for your baby to explore. They are mostly soft for cuddling, but they also have a textured section on the tips of their wings/ears for teething purposes. These toys are also BPA free of course. While these teethers are recommended for infants up to 6 months, my son played with his well into his 12th month. To make sure you are getting the best deal from Walmart.ca, I did a little price comparison. These toys sell as a set of 3 for $14.24 @ Amazon.ca. You can also find the Nuby Teether Tugz for $9.99 each @ TJsKids.com or $12 each @ BabysCorner.ca.
When I first purchased these Teether Tugz online, I was expecting a fairly small toy. You will be pleasantly surprised at the size, especially considering the $3 price tag. These toys are large enough that when my son would chuck them out of the stroller, I noticed. I also partially thank their bright colouring for that. My son grew to know his elephant Nuby Teether Tugz as "Nessie", which also became one of his first words. I will be hanging onto this toy as a keepsake.
These Nuby Teether Tugz are available for $3 online at Walmart.ca only. The great part is that Walmart.ca offers free shipping with no minimum purchase. That means even if you buy just one of these adorable characters, it will be shipped to your home fast and free.
(Expiry: Unknown)