Nail Polish Canada: Extra 20% Off Already Reduced RCM Gel Complete Starter Kit With LED Lamp (Now $80 | Was $115)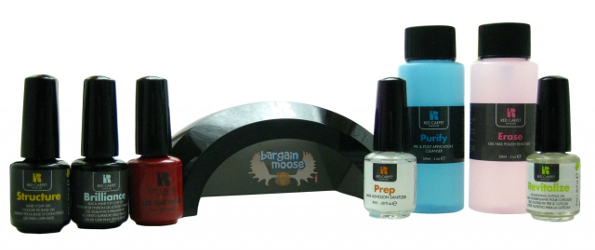 Quit wasting your money on gel manicures at the salon and get instead the RCM gel complete starter kit as it's currently on sale for $99.99 (reg. $115) and you can apply the following coupon code to save an additional 20% and get it for just $79.99.
Click here to get the RCM gel complete starter kit @ NailPolishCanada.com now
Coupon Code: RCMPRO20
Discount: extra 20% off RCM complete start kit
Expiry: Unknown
I have the worst nails because of a bad biting habit. I have been trying to stop for a while now but always find myself biting when stressed or even when mindlessly watching TV. Ever since a friend of mine told me about how the Sally Hansen gel starter kit she received as a present a couple of months helped her stop biting, I have been looking to getting my own. However, since the Sally Hansen gel pro salon starter kit retails for $69.97 and that each gel pro salon colour usually goes for $13.97, I have been searching for a more budget-friendly option.
The RCM gel complete start kit comes with a professional LED light, Prep max adhesion sanitizer, Purify pre/post cleanser, Erase remover, along with a Red Carpet Reddy LED gel polish, a Structure base coat gel, a Brilliance Seal & Shine top coat gel and a Revitalize nourishing cuticle oil.
Instead of ruining nails like acrylic nails do, gel manicures actually help to strengthen your nail, especially if you remove it properly with the provided product. Plus, gel manicures last around two weeks with no chipping!
Getting gel nails done at the salon can end up being quite hefty on the budget and if you're on the fence about getting a kit by Red Carpet Manicure, then rest assured that it has garnered a slew of great reviews like this one:
Finally caved and bought myself an at-home gel system. Sephora's was far too pricey IMO and this hit the mark for value. Needs some practice for sure - I got the polish on a little too thickly the first time around. This kit is great & definitely pays for itself. I like that the RCM polishes aren't overpriced either :) As always, great service & quick shipping from NPC.
Chick Advisor has also given it a rating of 4 out of 5 with plenty of rave reviews praising the easy-to-follow instructions it comes with and how long it lasts.
Even better is that Nail Polish Canada ships all orders absolutely free with no require minimum purchase. For more Nail Polish coupon codes, be sure to keep an eye out on the Bargainmoose forum.