Lulu.com: Free Shipping Coupon Code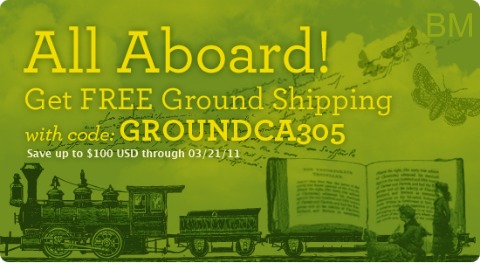 Thanks to Mooser Mylene for sending us this deal from Lulu. Get free shipping at Lulu.com on any order size right now.
Discount: Free Shipping
Coupon Code: GROUNDCA305
Expires: 21st, March 2011
Honestly, I know nothing about Lulu.com, I have never even heard of them before! Looks like they sell books, ebooks and offer services for editing, etc.
Fine Print:
Use coupon code GROUNDCA305 at checkout, select ground shipping and receive the shipping free. Maximum savings with this promotion is $100. Print and tax amounts are excluded. You can only use the code once per account, and you can't use this coupon in combination with other coupon codes. While very unlikely we do reserve the right to change or revoke this offer at anytime, and of course we cannot offer this coupon where it is against the law to do so. Transaction must be in US Dollars.
They have a fabulous deal on Absolute Death by Neil Gaiman, 32% off!