Lou Lou Digital $11.99 Or Print $16.99, 8 Issues - Includes Free Blinc Mascara, $20 Value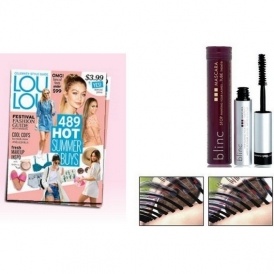 I was organizing some papers on my desk today and saw a post card with an image of Blinc Amplified Mascara on one side, and LouLou Magazine on the other side.
Loving mascara the way I do, I knew I had to get my hands on this Blinc Amplify waterproof mascara again. (I tested it out before in a trial size from Sephora and loved it.)
Rather than coating the lashes, this mascara actually 'tubes' over them and creates volume and length. It's ideal for sensitive eyes and contact lens wearers because you don't get flakes, smudges and streaks of mascara landing on your eyes, contact lenses or glasses.
Removal is very cool, it rolls off of your lashes when it's time to remove. (And it will stay on until you are ready to remove it!) Just use warm water and a bit of pressure to gently slide the tubes off with your fingertips.
Online, the travel size is retailing for $16 USD (just over $20 CAD) including shipping, here on the Blinc website. Which is not a bad deal at all...
However, when you order a 1 year (8 issues) subscription of LouLou magazine for either $11.99 CAD for the digital edition, or $16.99 CA for the print edition, (both not including taxes) you will receive the free bonus Blinc AMPLIFIED travel mascara.

If you love this mascara when you try it from ordering Lou Lou Magazine, here are some special value duo packs of Blinc Amplified Mascara that include a regular retail size and a travel size on the Blinc website, for $26 USD.
So - now with the 'good mascara stuff' out of the way - you've most likely read LouLou before and probably enjoy the Fashion, Beauty, Celebrity, Style, & Shopping feature articles and pics in it. For $5 more than the digital edition, the print edition is well worth it. It depends on your reading style for magazines, though. I've tried digital magazines and sometimes really enjoy them, but if they are not right in front of me, I get easily distrac--- squirrel!
Shipping: Free, whether digital or print edition of LouLou. The bonus mascara also ships for free.
(Deal expiry: Sept. 30, 2016.)