L.L. Bean: Free $10 Gift Card w/ $50 Purchase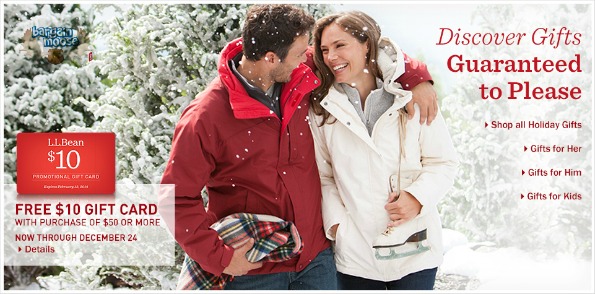 L.L. Bean (US) is offering a free $10 promotional gift card when you spend $50 or more at L.L. Bean (US) before Christmas is upon us.
The promotional gift card will expire the 12th of February 2014. There is a limit of one card per customer per day and all qualifying orders must hit that $50 minimum after all discounts, promotions, etcetera!
L.L. Bean offers free shipping to Canada but as Canadians we are responsible for any duty/customs charges we might incur from something crossing the border. Luckily, if the item is made in the USA we will not pay duty on it so it is worthwhile to take some extra time to look up where the item was made to see if you can avoid duty charges all together.
L.L. Bean makes great quality items that my husband's cousin swears by. I have been looking for good slippers as my husband has mentioned the temperature of my feet in bed lately. These Women's Wicked Good Slippers have over 2000 reviews for a near perfect 5/5 stars!! They cost $79 and I could get the free $10 gift card with them as an added bonus.
All prices are in USD.
(Expiry: 24th December 2013)