Hunter Canada: Hunter Boot Socks From $17.99 & Free Shipping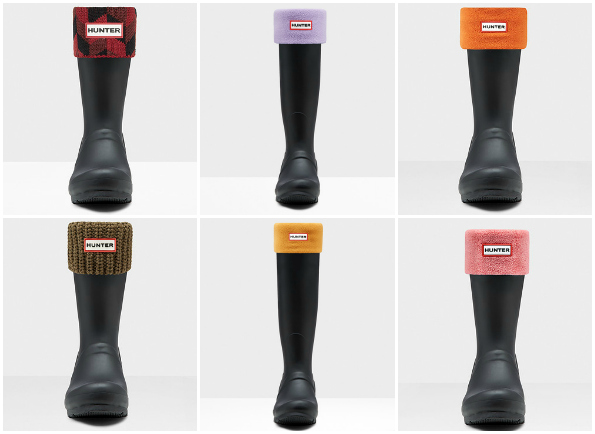 Hunter Canada is has a great sale on Hunter Boot socks for both the tall and the short wellies. Prices start at $17.99 with free shipping.
The cheapest socks are for the shortest boots - naturally. There are boot socks for women's short and tall boots as well as kids' boots. The cheapest pair of socks are these Hunter fitted boot socks (short) that were $25 and are now $17.99. For those with tall boots, the Fitted boot socks (long) are on sale from $30 down to $20.99. These fitted socks can also be worn around the house as slippers! <3
The following Hunter boot socks are made of poly-fleece to keep your feet warm and comfortable inside your tall wellies. For just $20.99 (was $30) you can have your choice of several colours (short):
If course, most women seem to prefer the tall wellies if they can fit their calves into them. The long boot socks cost a few more dollars but are well worth the sale price. Here is a sample of the cheapest ones besides the one I mentioned above (tall):
Of course that $20.99 fitted boot sock above is still the cheapest for long/tall boot socks.
For kids, there are plenty of options around the $21 range. I like these kids' half-cardigan stitch boot socks that were $30 and are now $20.99. These original kids' geometric dazzle boot socks are also pretty nice and the same price.
Now, you can sometimes find Hunter boot socks on sale at other places but the problem is shipping costs pretty much end the deal. The Bay and Sport Check both carry the Hunter brand but they also have high shipping minimums. I checked out Little Burgundy, but they only had a black pair of socks for the tall wellies. Those were priced at $50.
Hunter Boot socks make wearing your hunter boots far more comfortable. They are also very warm. These are most certainly not for summer wear or your feet will overheat. I like Hunter wellie socks because you can change the look of your boots just with a different colour of socks. I only own a pair of red socks me as socks for the short wellies rarely go on sale.
As for sizing, medium will fit a size 5 - 7 US wellie and the large will fit an 8 - 10 US wellie. That gives good coverage pf women's foot sizes.
The socks are final sale - no returns are accepted. If you are looking for more great deals on Hunter socks, boots, clothing, and other stuff... check out the rest of the sale.
(Expiry: Unknown)