Home Depot Canada: Free Shipping For Online Purchase Of $299 Or More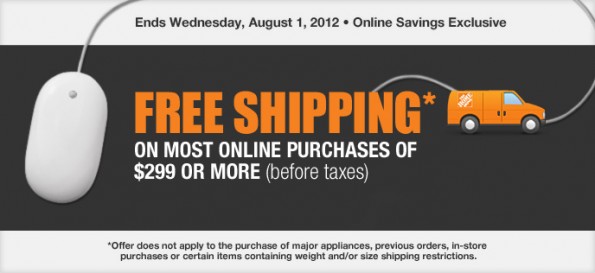 Home Depot Canada is offering free shipping when you spend $299 or more shopping online.
Offer does not include major appliances, or previous orders. Some items may be excluded due to size and/or weight.
This would be a perfect time to purchase those supplies you may be needing for any home improvement jobs. I'm leaning towards these bathroom fixtures like this Better living toilet valet for $32.99. I really like the looks of these Aviva III Chrome Translucent Bottles for only $49.99.
As you probably have guessed, I would like to redo the bathroom and now I can order what I want and have it delivered free.
I think I might like to include this Vantage 8 in mirrow with wall mount, 5X magnify for $49.99. No more sitting on the sink, trying to get as close to the mirror as possible for those plucking moments!
I also found this Springs comfort cafe area rug for $24.99 and only sold online, which would be absolutely beautiful in my bathroom. Now for lighting, there is so much to choose from, but I finally settled on this Easylite Dakota 4 light bathbar for $76.36. I love the simplicity.
As far as shelving goes, I think I prefer something like this Innova Diana 24 in glass shelf polished chrome for $59.19 and you can't have a bath or shower area without this Zenith pole caddy- brushed chrome for $58.97.
I'm fairly certain that you can see I am sort of partial to the chrome look and it doesn't take long to spend at least $299. Why not use the free shipping for those items you've been meaning to purchase (like my bathroom).
(Expiry: 1st August 2012)