Goodness Me! Free Shipping No Minimum & 20% Off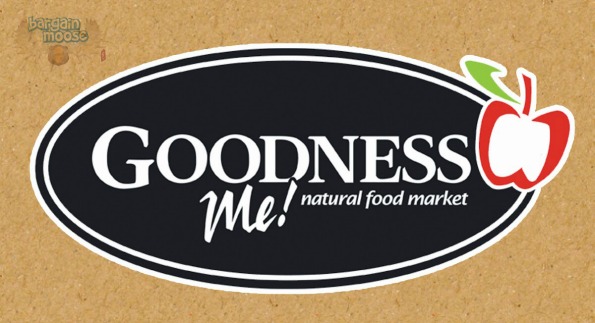 Goodness Me! is a divine little spot of heaven for natural and organic food, beauty products, and more. Today and tomorrow they are offering free shipping on any order with no minimum. I also tested this previously mentioned 20% off coupon code - KHRF - and it works* WITH the free shipping!
*Note: The 20% off coupon code only works once per account. If you have used it once before, you cannot use it again.
I didn't think I would be placing another order for myself so soon, but they stock Theo Chocolate. Theo is a brand out of Seattle that makes, in my opinion, the best chocolate bars you can have. The ingredients are squeaky clean, free of soy, and the taste is divine. Currently, two bars of their chocolate are on sale: Dark Chocolate 70%, 85g and Milk Chocolate, 85g. Originally $4.79 each, they are on sale for $3.50. After coupon code, purchase each bar for just $2.80 with free shipping. I just ordered a bar of the milk chocolate for my father and two bars of soap. My total was just under $15 and it shipped, free of charge, to rural Alberta.
I like when you can combine sale products with coupons and free shipping offers. This SkinGel from Nature's Aid is on sale from $13.99 down to $12.49. Use the above coupon code to receive this product for just $9.99. I own a bottle of this gel and it is excellent for itchy skin and sunburn. It is an aloe based product, which accounts for the cooling affect it will have on your skin.
Summer is the season of lemonade. If you are not up to making your own, then purchase Santa Cruz Organic Lemonade, 946ml. Originally $4.49 per bottle, the lemonade is now on sale for $2.50. If you have not already used the 20% off coupon code, then each bottle of lemonade comes down to $2.
The first time we posted about this company, we received a great response. One Mooser said:
They just opened one near me – I am in love with this store!
And fellow blogger Eva said:
I shop in-store at Goodness Me all the time! I love that store! Might have to shop online with such low shipping too.
With this free shipping deal and the 20% off coupon code, there is no reason why you should not shop at Goodness Me! online.
(Expiry: 19th June 2015)