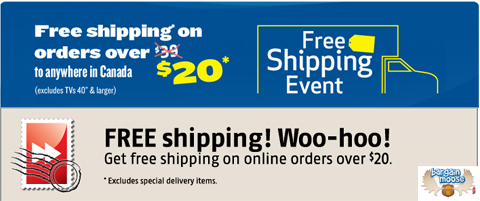 If you recall last month when both Chapters and Amazon reduced their online free shipping thresholds from $39 down to $25, I remember wondering if the likes of Futureshop or Best Buy might follow suit.
And guess what?
They have.
Great news for us avid Bargainmoosers! Both Futureshop and Best Buy have reduced their free shipping threshold to only $20!
There are a few exclusions, such as 40" or larger TVs from Best Buy, or special delivery items from Futureshop. But other than that, this is totally perfect for further avoidance of the in-store crowds which are already becoming quite rabid. Why not just sit at home in your pyjamas and order online instead? That's what I am trying to do with all my Christmas shopping.