Estee Lauder Canada Offer Code: Free Double Wear Mascara ($28 Value) With Purchase Of 2 Skincare Products + Free Shipping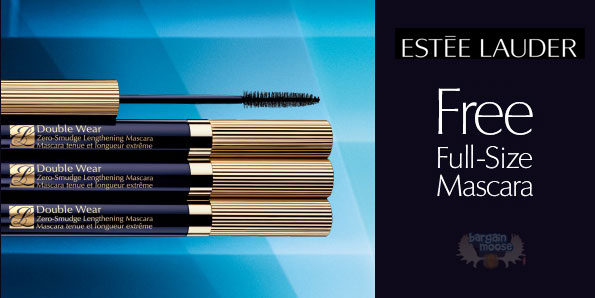 Estée Lauder has a fabulous freebie available: for a little while longer, you can get a regularly-sized Double Wear mascara for free with purchase of any two skincare products. Plus, you will also get free shipping on any order total! To pick your skincare products, simply hover over the "skincare" category at the top of any Estée Lauder page.
Click here to get skincare products @ EsteeLauder.ca now
Coupon Code: MASCARA
Discount: free double wear mascara
Expiry: 2nd August 2014
I'm sure most of you have heard of the beauty company Estée Lauder but what some of you may not know is that it has been around for nearly 7 decades! It was in 1946 that Estée Lauder herself launched this now well-known brand with her husband Joseph Lauder. Although they started with only 4 skincare products, they have since vastly expanded and have become one of the world's most successful beauty specialists. Surprisingly, the Lauder family still owns the majority of the company!
The Double Wear mascara that you will receive upon entering the coupon code above at checkout is described as being a "zero-smudge lengthening mascara" and would normally set you back $28! Personally, I have stuck with my same L'Oreal waterproof mascara for a couple of years now and I'm always reluctant to try new mascaras because I have yet to find any as good as the L'Oreal one (in my opinion, at least). This freebie is definitely a great way to try a new mascara, especially one that would normally be pretty pricey. There's nothing worse than paying more for an item, only to hate it afterwards!
According to its description, it has won SHAPE magazine's "Eye Makeup Reward" and is designed to stay on for as long as 15 hours. I'm definitely skeptical about that last part but if you have tried this mascara, then make sure to share your review in the comments section.
Admittedly, the skincare products available for purchase aren't cheap but this freebie definitely makes them more worth it, especially if you're a regular buyer of Estée Lauder merchandise. Since I have yet to try any Estée Lauder products, I'm definitely tempted to give the Perfectly Clean triple-action cleanser/ toner/ make-up remover a go, especially since I barely ever have any time to properly clean my face before bedtime. Maybe a 3-in-1 product is one that could my dilemma of often skipping taking off my make-up! It's $32 for 5oz.
Be sure to keep an eye on the Bargainmoose forum for an up-to-date list of all Estée Lauder coupon codes.