Coup Boutique Canada Promo Code: Extra 20% Off Final Markdowns (Up To 80% Off In Savings!)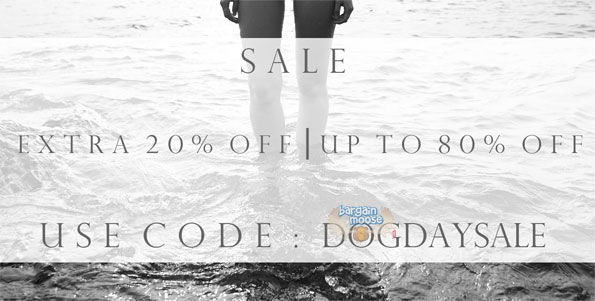 Want to get quality clothing for a fraction of its original cost? Then check out Coup Boutique sale section right now because until the end of Labour Day, you can save an additional 20% off final markdowns.
Click here to shop the sale section @ CoupBoutique.com now
Coupon Code: DOGDAYSALE
Discount: extra 20% off sale items
Expiry: 1st September 2014
A word of warning: even the sale prices of Coup Boutique's items aren't the cheapest. However, and this is where a major however comes in, this is an amazing opportunity to get quality items for a much better price. To give you an idea, I found the Helmut Lang leather and angora top on sale for $204.75 (reg. $325). This means that with the code above, it comes down to an even lower price of $163.80, which is close to 50% off the original price tag and is an amazing price to pay for this shirt. Why? Because it has 20% angora and a trim made entirely from lamb leather. Just for that reason alone, I would actually go so far as to pay full price for this shirt because of the softness of this fabric as it's made from the Angora rabbit's abundant down coat.
You could also get the Sacai Luck dress for a reduced price of $262.08 instead of its sale price of $327.60 (reg. $455), but the only hitch is that it's not available for direct online purchase and you would need to contact Coup Boutique directly. I am mentioning it because it looks absolutely fabulous and actually has as much as 75% angora!
Surprisingly, Coup Boutique's selection of reduced items even includes gold-plated jewellery. This Kelly Wearstler Sochi ring, for instance, is 24K gold-plated brass with six malachite stones is actually a double ring, which is very in fashion right now. It can be yours for $168 instead of $210 (reg. $300).
Although there are plenty of big ticket items to be had for less, there are also a couple of pieces for less than $100. The Shakuhachi bikini bottom is on sale for $70 (reg. $100) but comes down to $56. It features an animal/marble print and what I like about it the most is that it's high-waisted. Having recently given birth, things aren't exactly back to normal just yet. A low-rise bikini bottom and a bikini top are also available for the same price.
Even better is that Coup Boutique also ships for free!