Costco Canada: Oster 1.5L Jug Style Kettle - Now Just $35 (Was $48)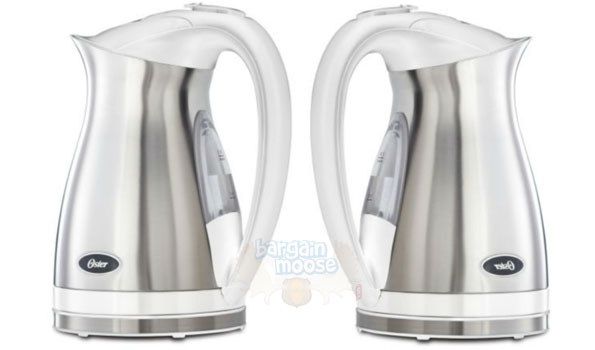 Costco has the Oster 1.5L jug style kettle on sale for just $34.99 right now. It was originally priced at $47.99.
With a 1.5L capacity, this Oster kettle is made with brushed chrome and white accents. It also as a 360° rotational base, which means that you won't have to worry about placing it just right. There is also an external water level gauge in the same spot as the handle. This may seem like an obvious aspect to have but in all actuality, not all kettle have an external water level gauge but it's definitely very handy to have.
A $13 price reduction may not seem like much but I thought I would blog this kettle anyways for a couple of reasons. First of all, a jug-style kettle is original in of itself, especially if you're looking to give a tea-lover a kettle as a Christmas present. Secondly, it's also the cheapest price all around as Sears has it priced at $59.99, while everywhere else, like Walmart and Best Buy, it's priced at $49.98. There are no reviews for it on Costco's site, but here's one I found at Sears:
Have had my Oster kettle for about 5 years -- fabulous! Only one on the market that keeps the water hot all day (and night, too!) -- just a couple of minutes, and it's back to boiling! Easy to clean, even in this hard water area -- a splash of vinegar once every couple of weeks, and it's good to go!
The fact that the water stay hot for a while is definitely a major plus. I've had the same old cheap kettle for a couple of years now and always need to re-heat the water even after 10 minutes of it coming to a boil. So if you're an avid tea, instant coffee or whatever other beverage drinker, then this is a major advantage.
According to one reviewer that wasn't particularly satisfied with this kettle, the corn is on the shorter side. So definitely keep this mind but it shouldn't be too much of a problem in most kitchens.
Costco also offers absolutely free shipping.
(Expiry: 21st December 2014)