Cheaper Condoms @ Well.ca Online Drugstore!
Did you know that Well.ca are running a promo on their condoms, and they are all discounted by 8%?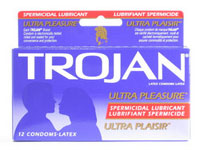 Does that mean they are only 92% effective? I hope not!!
All the big names are in there, from Durex to Trojans. Prices start at $1.55 for a pack of 3.
If you regularly buy your condoms from Shoppers, compare the prices on Well.ca to see if you can get yourself a better deal on your contraception. As Well.ca offer free shipping Canada wide, if you can get a good deal there, then you might as well take advantage!
This would also be a good bargain for those of you who are pretty shy about buying your love gloves from the pharmacist. You don't have to be embarrassed in front of any real live people!