Bowflex TreadClimber TC10 $700 Off & Free Shipping - Was $2400 | Now $1700 With Coupon Code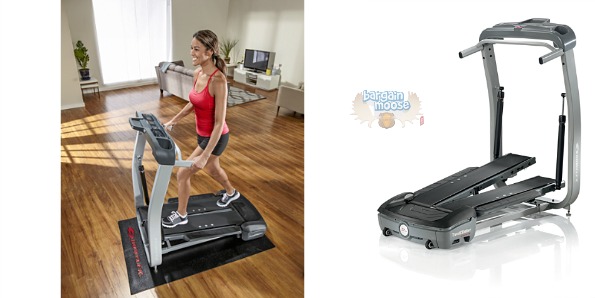 If you are very serious about getting into shape, you'll really want to look hard at this deal. The Bowflex TreadClimber is now $700 off and it will get free shipping with coupon code today only.
Click here to shop @ Treadclimber.ca now
Coupon Code: HOLIDAY15
Discount: $700 off and free shipping
Expiry: 20th May 2015
Regularly $2399, use the coupon code to get the TC10 for $1699 with shipping included. Normally, I don't try to blog items over $1000, but I know the benefits of this machine and it is worth the cost. I have a friend who had two bouncing baby boys and had gained quite a bit of weight from her pregnancies. She was feeling awful about herself and talked her husband into buying her a TreadClimber. She started using it and immediately the pounds dropped off. Seeing this, her husband who is a police officer, also started using it and loving it.
She said the workout isn't insanely intense and doesn't feel that much harder than walking on a treadmill, but gives you so much better results. I am really considering getting one for myself at this price. She spent a lot of money on hers and I don't think she used a coupon. Looking back over the coupons for Treadclimber, we once had a discount for $700 off and free shipping, but mostly the highest they regularly go is $350 off or free gifts with purchase. Even their Cyber Monday coupon was only $375 off the TC10.
Add to your $700 off that you'll be saving a whopping $200 in shipping fees. That's right, the standard shipping charge on this machine is $199.99.
There are 2345 reviews, which give this machine a total of 4.4 stars out of five. I'd say that's a pretty good sample of people! The pros and cons are kind of funny as they are easy to store/hard to store, quiet/noisy. Generally it is very easy to use and sturdy with a smooth operation. You'll have to decide if it is easy to store and maybe too noisy. This summary from a long review sums it up:
Overall, I'd say it's a good machine and I'm glad we picked it up - it gives a good workout and it delivers as advertised. While more features for the price would be wonderful, and it would be even BETTER to have the ability to fold the machine up for storage, you know what you're buying when you buy it and it's worthwhile, overall.

I have to say that the reviewers who said it was too hard are probably giving up too easy. Exercise is supposed to be hard or they wouldn't call it a workout!