Bodycandy Coupon Code For Free Shipping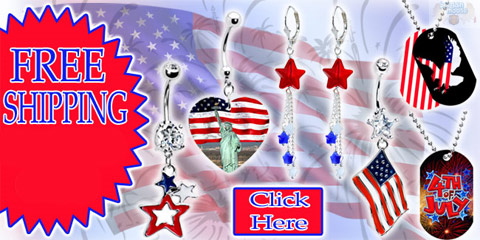 Bodycandy.com, the online store for various body jewellery, is offering totally free shipping with this coupon code, and there is no minimum spend at all!
Click here to use the Bodycandy coupon code online
Coupon Code: STRIPES
Discount: Free shipping
Expires: 23rd June 2011
The coupon code is STRIPES as it's a celebration of the 4th of July, as you can see from the image above.
There's an extensive collection of illusion toe rings for sale. I think they're nice to pretty up your plain toes when you're wearing slinky sandals in the hot summer. I don't like the huge and ostentatious ones though, such as the Bouquet Chic Flower Illusion Stretch Toe Ring. The Amethyst Glam Illusion Stretch Toe Ring is quite pretty. Plus, it's only $3.99.
Remember, Bodycandy actually ship from the US, so watch out for how much you actually spend. Anything over $20 may incur extra duties or fees, so I'd probably recommend keeping your order below that level. You usually have to spend $20 to get free shipping to Canada (it's a $4.99 saving), so this coupon code is a handy idea.