Biotherm Canada: Free Shipping No Minimum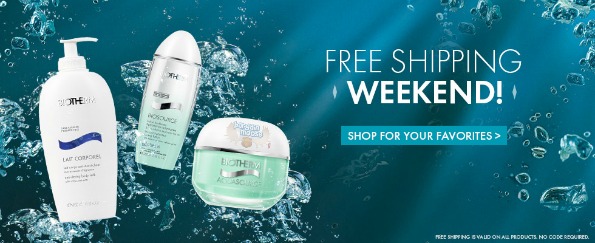 Biotherm is featuring a free shipping weekend so you can stock up on all your favourites or try out something new without concerning yourself about shipping costs.
I am not too familiar with Biotherm as I have never used their products. However, they have products on their website called 'stars,' which are supposed to be their favourite products, so I figured that was a good place to start. Their Biosource Lotion is one of those stars and priced at $19. One reviewer said:
I've used this lotion for more than a year and I don't want to use any other one. It smells so good.
I think that is a strong kudos to the product.
Whenever I look at new skin products I always want to buy things in sets. It just feels weird using products from different brands together. How do I know if one is working and one is not? How do I know which is the guilty party? I also think that some products are made to work together. Thus, it might be the interaction of the products, not necessarily the products themselves that are causing problems for your skin. To avoid this problem, Biotherm has sets you can buy starting at only $45. This makes sure that all the products you are using together are in harmony. I like that idea. You can also save money when you buy products in sets. The retail value of the Hydratrio Aquasource Day set is $63; however, you will only pay $45.
(Expiry: 16th September 2013)