Best Buy Canada: Fitbit Zip Activity Tracker Was $70 | Now $40 & Free Shipping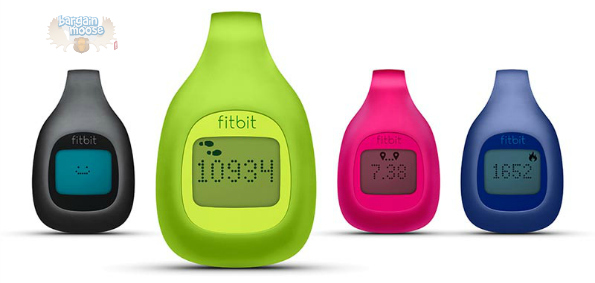 Pounce quickly on this Fitbit Zip Wireless Activity Tracker deal at Best Buy Canada as stock is dwindling! Originally $69.99, the Fitbit Zip is on sale for $39.99 with free shipping.
While tying this post, three of these units sold in the charcoal. Thus, I know this deal is quite popular. I made sure to price compare with other online retailers, just to make sure. The Fitbit Zip retails for:
$69.99 @ Sport Chek
$69.95 @ Staples Canada
$69.95 @ Walmart Canada
$69.99 @ Bed, Bath, & Beyond
$69.95 @ Chapters Indigo Canada
There is one other place where the Fitbit Zip is discounted to this price: at Amazon Canada. Yet the Fitbit Zip is quite discounted at these two stores compared to all other retailers. I figured this was a worthwhile deal to blog even though the sale price is at two different retailers. If Best Buy sells out of the colour you want, then head over to Amazon Canada to also purchase this unit for $39.99.
There are four colours to choose from at Best Buy Canada:
The charcoal (black) unit has the lowest stock, with fewer than 20 remaining. The other three colours do not mention stock levels, thus I assume they are not low in stock yet. Usually, Best Buy Canada gives exact numbers for totals under 30 units.
The Fitbit Zip is a mini version of the normal Fitbit you know of. This unit tracks your steps, distance, and calories burned. It will wirelessly upload this data to your computer, smart phone, or tablet. Unlike the other Fitbit devices that you wear around your wrist, this Fitbit Zip fits in your pocket, clips onto your pants or belt, and even can clip onto your bra band. One reviewer said:
Great product. Makes you aware of how much/how little you are walking. Syncs with Fitbit online so you have a daily, weekly and monthly record. I have stepped up my own activity and am making some progress in my fitness journey.
If you are looking to be more active and need an extra incentive, then this is the device you want to buy. However, this will not monitor your sleep if you need that added feature. Overall, this is a good deal on a wearable tech device designed to get you moving and living a healthier lifestyle.
(Expiry: 18th June 2015)