Barbie Color Chalk Hair Doll Only $15.89 & Free Shipping @ Sears.ca *HOT*

Sears Canada currently has the Barbie Color Chalk Hair Doll on sale for $25.89, from $36.99. This deal was supposed to end yesterday, but the sale price is still there and the discount is still working in my cart. Add on coupon code 941612824 for $10 off $25, and receive this Barbie for just $15.89. Sears is also offering free shipping on all toys right now through Christmas Eve, so you will only pay tax on top of this toy.

Even though this deal screams of awesomeness, I made sure to price compare with other toy retails to ensure this was indeed the best deal. I found the doll on clearance at Walmart Canada for $30. I also found it from a marketplace seller on Amazon Canada for $22.99 plus $16.37 shipping. I could not find the doll at Toys R Us.
As you can see, the date shows that the sale price expired yesterday, but it is still working in my cart.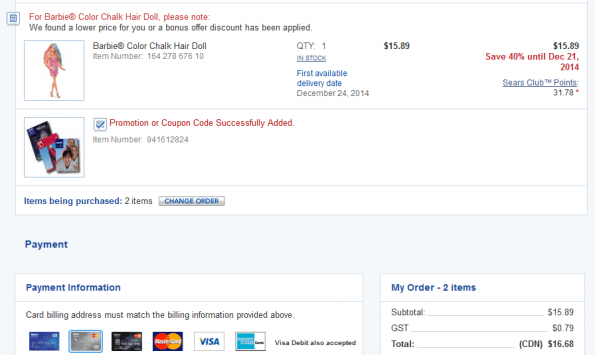 This is a cool toy. Your Barbie doll comes with three coloured hair chalk pods that are enough for 100 applications! Let your little one colour Barbie's hair to their heart's content. When you want her hair back to blonde, just wash all the chalk out with normal soap and water. After the doll's hair dries, it will be ready to be coloured again.
One reviewer said:
Being one of the traditional hair color changing dolls, barbie wowed this this time with this one. Not only it's easy to mix the colors for new shades; but the chalks that this set comes with are just like the hair color chalk that you can buy out on the market. So, not only the girls can get some barbie fun, but they can also get an amazing new hair do.
I assume you can also use regular hair chalk with your doll, but I would experiment with lighter hair chalks rather than going black or deep green the first time. Make sure your normal hair chalk does not stain her hair first. I own a bunch of hair chalk but found it took forever to chalk my hair as it is so thick.
With 40% off the original price, an extra $10 off coupon code, and free shipping - this deal is just beautiful. You may even get it in time for Christmas as my screen shot above is still showing the first delivery date to be December 24th.
(Expiry: Unknown)