Back to School Backpack Deals Roundup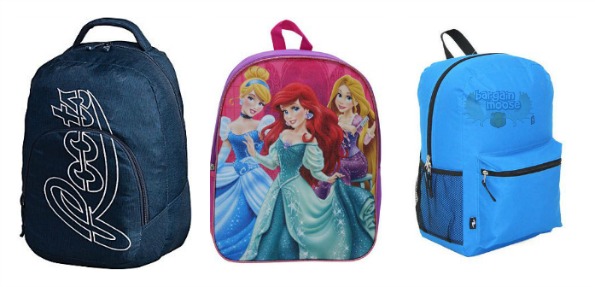 I can't believe that kids will be heading back to school in just a couple of short weeks. Instead of doing our regular weekly printable coupon roundup this week, I though I would let you know about all of the great back to school backpack deals. Backpacks are an obvious must for students young and old and they are something that usually only last about a year with all of the use they get.
One of the first places I check for back to school is always Walmart Canada, not only are they one stop shopping with supplies, lunch food, clothing and shoes, they are also very affordable.  Additionally, when you shop for items at Walmart Canada online, you will get free shipping as well.  You really cant beat that!
Right now, they have backpacks as low as just $5. How cute is this Disney Princess backpack for just $7? I also think this Athletic Works backpack priced at just $5 is a really incredible deal. It comes in a variety of colours to choose from.
I was actually surprised to see how great the backpack deals are at Staples right now because they are rivaling all of their competitors with some great prices.  Their backpacks start at just $4.98 on sale which even beats Walmarts prices! Staples offers free in-store pick up and free shipping on orders over $45.
I love this High Sierra Impact backpack that was $20 and is now on sale for just $17.  As you are looking through the rest of the deals, you will want to be aware that some of the backpack deals at Staples Canada are only available in stores.
Sears has a lot of backpacks on sale right now that would suit preschoolers all the way up to college students.  Make sure to check out the individual expiry dates because some of the deals are  only valid this week only.  Some of them are on sale up to September 4th 2014 so you will have to pay attention to the details.
One of my favourite backpack deals that I found at Sears Canada would have to be this Roots girls backpack.  It was $39.99 and it is now on sale until August 21st for just $23.99.
When you are looking at all of the backpack deals, keep in mind that most backpacks will only last your child the one year.  Even if they are great quality and last longer, they will most likely want a new one the next year anyways.  Make sure they are big enough for your kids school supplies, extra clothes and lunches and whatever else they may need to bring to school.