94% Off Slim Bag-in-Bag Purse Organizer - Now $4.99 & Free Shipping @ My Makeup Brush Set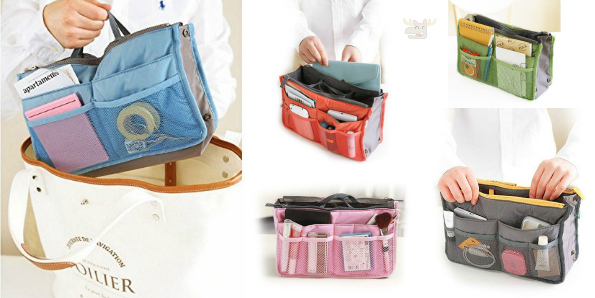 **Bump: This deal is back on today only**
I found a great deal on this Slim Bag-in-Bag Purse Organizer that every woman needs. Originally $79.99, the purse organizer is now on sale for $4.99!  My Makeup Brush Set has also released a sweet coupon code that will give you free shipping today only. Use coupon code BFFS for free shipping until tonight on this purse organizer.
Click here to purchase a purse organizer @ My Makeup Brush Set now
This Slim Bag-in-Bag Purse Organizer comes in a myriad of colours so you can mix and match. Choose from blue, coral, grey, hot pink, light pink, purple, red, wine red, yellow, or green. This organizer features 13 pockets of varying sizes for carrying and organizing everything you might need. One reviewer said:
I bought 2, one for myself and another for my daughter. I love when my make up is so organized. She actually is using hers for her ipad. Great for a lot of things. I'm on the site right now as we speak ordering 3 more for my sisters and mother for Christmas, they will absolutely love them. I know I have no regrets I am ordering myself another color as well.
The organizer also keeps all your belongings in one place so it is easy to switch from bag to bag. Just pull your organizer out and stick it in another purse. As the organizer holds all your essentials, it also lines the inside of your purse keeping the material protected from leaks and spills and marks. There is a zipper on the top to protect everything from falling out. I like how many of the pockets are see-through so you know what is in each pocket.
This bag is ideal for holding cosmetics, a cell phone, cards, books, travel goods, electronics, and more. The organizer measures approximately 11.25" x 6.7" x 3.9".
Now, this coupon code works for everything else on the website as well. This Easy Store Make Up Kit is also an amazing buy. Originally $59.99, it is now on sale for $4.99 in yellow (other colours sold out). It will sort and store everything you need in your bathroom. You would also receive free shipping on this. I am having some serious love for this coupon code as the few things I want to buy are never worth the extra shipping charge.
I will be popping a Storage Box for Bras, Underwears and Socks in to my bag and using this promo code for sure! The storage box is on sale from $19.99 down to $4.99 and then qualifies for free shipping after coupon. I need a few of these boxes as my underwear draw is a complete MESS. At just $5 per box, I might pick up three.
Now the original price is totally marked up in my opinion (and from my research) but I could not find this type of bag this cheap except from knock-off China companies. Ones sold in Canada or the USA were about double this price. For example, this bag is $12.68 @ Newegg.ca.
(Expiry: 14th December 2015)