82% Off Medium Rise Skinny Jeans + EXTRA 20% Off @ Parasuco Jeans - Just $20 (+ Free Shipping!)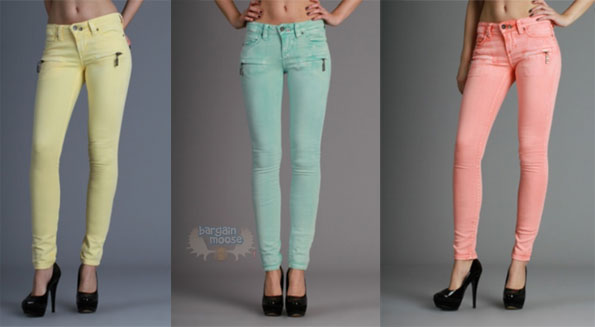 Looking around Parasuco's sale section, I spotted the medium rise skinny jeans on sale for just $24.99. At checkout, these jeans get reduced by an additional 20% off to just $19.98. They were originally priced at $135, which means that you're looking at 85% in total savings! Plus, you can have them shipped for free right now!
Available in all sizes from 23 to 32 with a 34 inseam, you have the choice between the following three colours: yellow, blue or pink. As you can see in the picture above, all of these are in a pastel hue. Although this jean may not be the most season appropriate right now, I thought it was a great deal to mention, especially since shopping out of season is the best way to save some money! If you get these now in each colour, then you will be pretty set once summer comes. ;)
For the same price of $19.98, I also spotted the 8SoficB medium rise skinny jeans. Just like the other ones, they're on sale for $24.98 but get reduced more at checkout. The only difference between these and the aforementioned ones is that they're reversible. So you can either wear them as yellow jeans or turn them inside out to make them primarily white with a yellow outline. I debated between which jeans to feature but since these ones were originally priced at $120, I decided to go with the ones that yielded a higher discount. Both are very hot buys, however, and if you're in need of jeans, then I definitely suggest snagging both as soon as possible.
As I already mentioned, these jeans currently qualify for a free shipping promotion. Usually, shipping is only free on orders over $150 at Parasuco but for a limited time, they're offering free shipping on any order, no matter the minimum!
In fact, if you want to get a cheap tank, then check out the 8Eturna. Since it's on sale for $14.98 (reg. $65), it will come down to just $11.98 at checkout. While it may feature an elegant style in the front, it has more of a "business up front, party in the back" kind of feel. If you click over to the back of the shirt, you will see what I mean. It reminded me of Sons of Anarchy, but that may be because I just finished watching the finale the other day.
(Expiry: Unknown)