77% Off HP K4000 Bluetooth Keyboard Was $60 | Now $14 & Free Shipping @ HP (EXPIRED)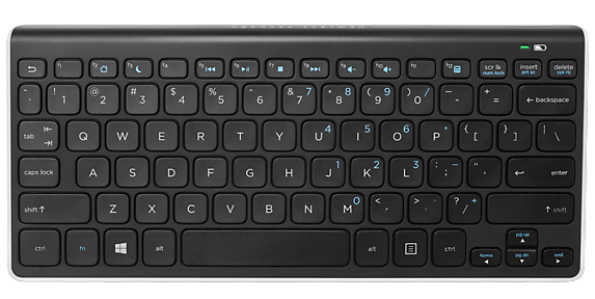 Just imagine me dancing for joy when I found this deal. Seriously my dear Moosers, this is just fantastic. The HP K4000 Bluetooth Keyboard is on sale from $59.99 down to $22.99. Use coupon code BOXACC40 to take an extra 40% off that price! This wireless keyboard (perfect for smartphones and tablets) comes down to $13.79 with free shipping across Canada.
This is the perfect wireless keyboard. The keyboard is compact, yet fully functional with every essential button to type out a long email, continue a long text conversation, or whip up an estimate at a moment's notice. This unit is compatible with multiple OS systems: you can use it with Windows or with Android. It does not mention any Apple brand devices; however, there is a chance it is compatible as it connects to your electronics via Bluetooth.
The keyboard is slightly angled for increased comfort. The glossy finish is eye-catching and hides crumbs pretty well. ;) There are no wires or dongles needed for this keyboard: you can merely connect using Bluetooth. This allows you to actually be away from the computer, phone, or tablet when you are typing. Bluetooth offers reception up to 30 feet (10 meters) away.
This is the same way I connect to my wireless Sony speaker, which is why I think this keyboard should work with Apple products. Apple products use the same kind of Bluetooth as non-Apple products so there shouldn't be a problem connecting the keyboard with an iPhone. The Windows home button might not work with an Apple device, though you may be able to program that button.
Overall, this is a fantastic deal. I can find $15 to $20 no-name keyboard around Amazon that are like this but there is nothing of HP's quality that you can find for this price. Quite simply, this is a good quality keyboard from a solid brand at an amazing price. When I was looking at price comparisons, the cheapest I could ever find this keyboard was for $19.99 refurbished at Newegg. If Newegg was charging $20 for a refurbished HP K4000 Bluetooth Keyboard, then a brand new one for under $14 is pretty hot.
The coupon expires TONIGHT so you will want to pop this in your cart and checkout ASAP.
(Expiry: 3rd January 2016)