74% Off Divergent Journal Set - Now $4.24 & Free Shipping @ Chapters Indigo *HOT*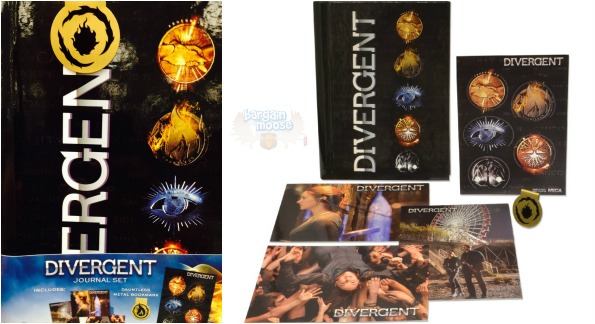 Chapters Canada is offering free shipping this entire weekend and they have some amazing sales to go with such an offer. Eva mentioned this deal in her roundup post yesterday. However, I felt it deserves special attention. Chapters Indigo is selling the Divergent Journal Set for just $4.24, which is 74% off the original price of $16.95. The set will also receive free shipping, no minimum order required.
This is a great little gift and perfect to finish off the top of someone's stocking or wrap and stick under the tree. The set includes:
130 page faction lined decorated hardcover journal
Five stickers
Dauntless metal page marker
Three postcards featuring images from the movie
You can see the entire set above, it is nicely constructed and it is certainly worth the money you are spending. If your children were fans of the movie, then pick up a couple of these journals. One reviewer said:
I bought this for my daughter's best firend as birthday gift. It turned out to be the best gift she received. Both the girls are happy.
I was trying to price compare these - but they are near impossible to find in Canada anymore. Funny enough, people are reselling them on Amazon Canada starting at $56.70 (+ shipping) and on eBay at $19.99 (+ shipping). It makes me think that this is soon to be a collector's item that might sharply increase in value. I have a few items like that, namely a Pink Panther complete collection (with friends) now worth over $600 in its complete form with box.
It was seeing the reselling price of these journals on other websites that really convinced me that this deal needed a post of its own. If you miss this deal now, it might cost you a small fortune to buy it later as these are no longer being made. Re-sellers are already sending prices through the roof.
This deal is hot, so I expect it to sell out very soon. I hope you can pick one up while they are still in stock.
(Expiry: unknown)