Toys R Us Canada: 50% Off Bright Starts Snuggle Duckling Rocker - Now Just $42.47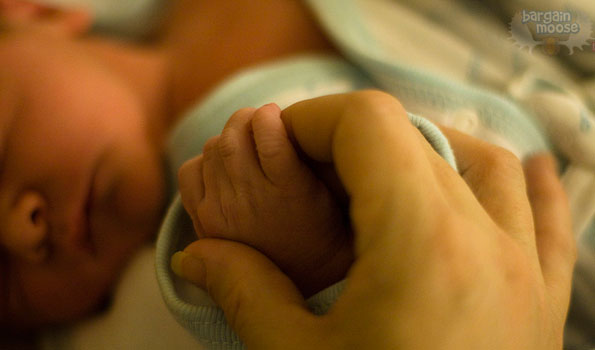 There's nothing like a peaceful baby... that isn't crying and is totally soothed by the gentle motions of a rocker. So if you have a baby or are about to have one, don't delay in getting one! At Toys R Us, you can grab the Bright Starts Snuggle Duckling Rocker for 50% off -- it's now on sale for just $42.47.
There is nothing more convincing than reviews and this one from one reviewer sums up the usefulness of the Bright Starts rocker in the best way.
I absolutely LOVE this chair, it was my daughter's throne! [...] She's 11 months and she still hasn't outgrown it! [...] DO Buy this chair IF you are looking for a SAFE chair that will not tip over...your child will not get out of this one!!! [...] The straps go over the shoulders and  around the crotch...very very secure unlike most other plastic chairs that only strap at the crotch. DO NOT buy this chair for rocking motion, reclining positions or the hanging duckies.
The fact that this mommy was able to have her 11-month baby sit in the rocker is pretty impressive in of itself!
If the Bright Starts one doesn't particularly suit your fancy, then check out the Ingenuity ConvertMe Rock n Lounge Seat instead. Originally priced at $119.99, it's currently also 50% off and can be had for just $59.97. It's slightly different in that it looks like a bassinet and it also has the same amount of melodies, which is 7. Since both bouncers vibrate, it really boils down to a matter of which one's appearance appeals to you both. Personally, I would just go with the cheapest option, which is the Bright Starts one! :P
Shipping isn't entirely free but there's a $10 discount that will be automatically applied at checkout. For my location, shipping turned out to be $14.42, which came down to $4.42 with the discount. It will depend on your location but you could try picking it up in-stores instead. I have done this in the past and was surprised at how fast and efficient the process truly is as I was able to pick up my order on the same day.
(Image Credit: Bridget Coila)
(Expiry: 20th August 2015)