Snuggle Bugz Canada: Valco Baby Zee Stroller Only $279.99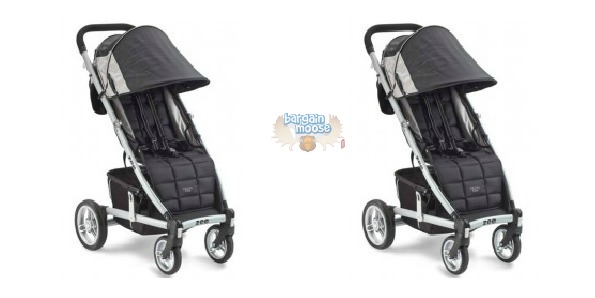 Snuggle Bugz Canada has the Valco Baby Zee stroller on for only $279.99, regularly $339.99, with free shipping included! I googled around and couldn't find this stroller for less than the regular price on other sites, so this is a great deal.
Word on the Mommy circuit is that Valco is an awesome name in strollers. The reviews for this stroller are glowing.
What's awesome about this stroller is that it is really lightweight (only 18 pounds), which was a really important factor for me when I shopped for a stroller. I didn't want to hurt myself doing the endless lifting in and out of my vehicle. Especially after giving birth or a c-section, you don't want to be lugging around too much weight on one of the most important pieces of equipment you need for a child.
Another really important factor in choosing a stroller is that it is a smooth ride. I remember hanging out with a friend pre-motherhood and offering to push her stroller while she tended to her toddler. It was the crappiest ride ever. The stroller stalled and was basically like pushing a brick house across the mall. I actually have a cheap stroller like this right now, which I have to kick the wheels every time I turn or go in reverse. It gets my blood pressure up. The Valco Baby Zee is a very smooth ride with great durable wheels that are larger in the back.
Secondary to those features, it is nice to have some add-ons like an adjustable footrest, extended hood to keep the sun out of the baby's eyes (so important) and a very roomy basket for all the shopping you will do on your maternity leave because you just need to get out of the house! I also like the full recline, because you know there will be many, many, many days you'll be walking that baby through the neighbourhood hoping for just a few hours (or minutes) of quiet and rest.
It is also very easy to fold down, which is super important when you are juggling many things, and it is compact so it fits in even the tightest of trunks. You also have your choice of three colours.
If you check in the Bargainmoose coupon forum, we also have an exclusive coupon code for an additional $10 off your purchase over $100 at Snuggle Bugz.
Shipping is free on orders over $40.
(Expiry: Unknown)