Rockprettybaby Coupon Codes For Easter Discounts!
The Rockprettybaby Canadian baby boutique is running an Easter promotion, with some nice coupon codes for up to 30% discount from their online store! They did an Easter egg hunt, but I have taken all the hard work out of it for you, and found the final coupon codes. Here they are: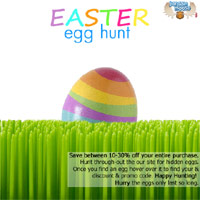 Coupon Code: Treat
Discount: 10% off
Coupon Code: sweet
Discount: 20% off
Coupon Code: candy
Discount: 30% off
The site says that each discount code will only be available in limited quantities. This means that it will probably only allow so many uses of each discount code. I would guess that the 30% one might expire fairly soon, so use it asap if you want to!