Parents Canada: Thermometer Pacifier Only $9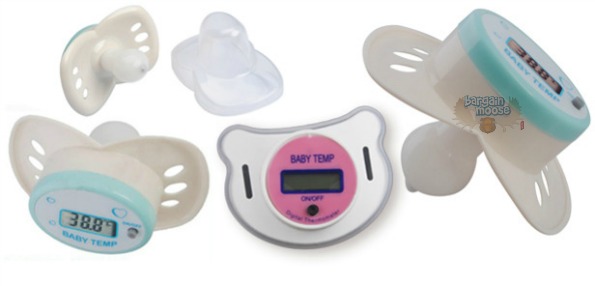 Not only is this deal cute, it is functional. Get a thermometer pacifier for only $9, was $49.
Whoever invented this was a genius, I tell you. Taking a baby's temperature is never fun, especially if they are asleep. Ear and forehead thermometers are so expensive, and the easy and economical way is usually pretty unpleasant for both parent and child (you know which way I mean). With this item, you simply stick it in the child's mouth, and ta-da, temperature! Most children won't say no to this method!
Made for children under age four, it gives you an accurate temperature after three minutes with the non-mecrury digital LCD built-in. It also has an automatic shut-off, just in case you can't get it back once you've read the temperature.
With tax and shipping included, this is definitely a sweet deal, and one you might as well try. Buy up to five for yourself and as gifts.
(Expiry: 30th August 2013)