My Outlet Store Canada: Graco High Back TurboBooster Car Seat Was $69 | Now $35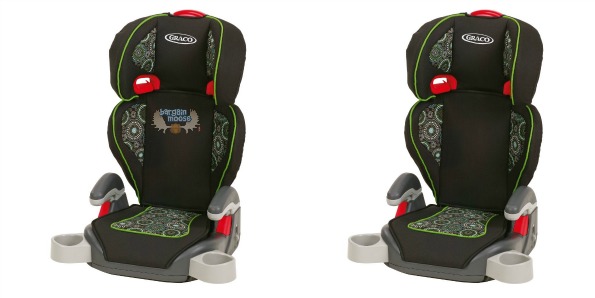 If your child is getting too large for their car seat, you might want to pop them into a booster (as long as they meet the required guidelines). Luckily for you, booster seats are much cheaper than car seats and this deal at My Outlet Store will ensure you don't break the bank switching your child over to a booster seat. Regularly $69, get the Graco High Back TurboBooster car seat in the spitfire pattern for only $39. Add the coupon code CARDSWAP to get another 10% off and pay only $35.10.
I think this is a fantastic price for a high back booster, as I paid $25 for my now back boosters and I wish that I had gotten the high back one. What's better about the high back booster is that it has energy absorbing side headrests, which help to protect in an accident. Even just for comfort, the headrest is great if your child falls asleep in the car, which mine does on a regular basis. This way, their neck is not strained by the weight of their head.
I also like that it has cupholders, because if you have a van like mine, there are no cupholders in the second row of seats. Sure, there are the ones on the front middle console, but a kid strapped in can't reach those and you'll have to listen to them whining for you to pass them their drink and then put it back every 30 seconds. I like it when they have their own cupholders!
If your older child doesn't like sitting in a high-back booster because it looks too much like a car seat and they feel like a "baby", this model converts back to a regular booster with no back. I love that feature!
The fabric print is pretty neutral so that you can use this for both a boy and a girl.
The cheapest that I found a Graco high back booster was at Sears, where it sells for $50.99, so you are saving a minimum of $20. I couldn't find it on sale at any other store.
Shipping is free when you spend over $75, so you might want to look at some of the other sales in home, fashion and kids. I quite liked these Vrum ride-on storage cases that would come down to $26 with coupon, with a regular price of $50. You could also look at the Carters snowsuits, which were $55 and would be $35 with coupon.
(Expiry: Unknown)