Chapters Indigo Canada: Twilight Noah's Ark Was $50 | Now $25 & Free Shipping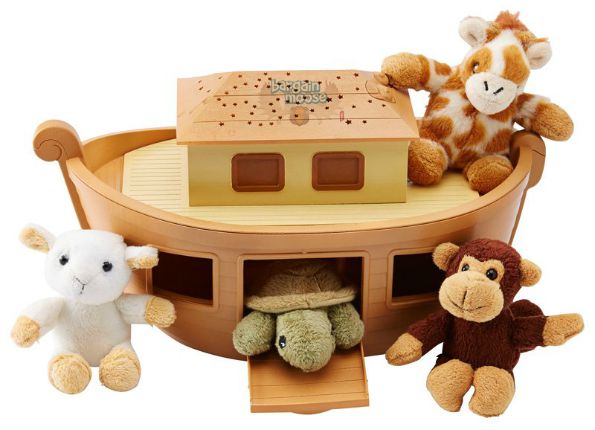 I found a very cute baby gift at Chapters Indigo that is sure to be used by the mom-to-be. Get the CloudB twilight Noah's Ark, regularly $49.50 for only $25 with free shipping. This cute decor item is also a light source that will provide twinkling stars on the ceiling. It is sure to be used until the child is older and feels ok sleeping in the dark (around age 6 or 7).
You can only get this item at Chapters Indigo, so don't look to see if you can get it cheaper anywhere else.I think this would make such a sweet gift for a baby shower. Last night my friend texted me that she has been having trouble getting her new little guy to stay asleep. I vaguely and vividly (ironic, eh?) remember those days. I do remember that sometimes distractions would help get the baby to sleep without having to be held, rocked or using a breast to get back to sleep. One of those distractions was music or white noise, another was light. I think these twinkling stars would be a great distraction that will help baby drift off without realizing you aren't right there with him/her.
It has three colour cycles and an auto shut-off, which is perfect because you probably want to go to bed too and not have to wait up to shut it off!
There are two reviews where one person couldn't get it to work (user error?) and another who loved this:
I bought this for a baby yet to be born. It is absolutely adorable. I would recommend it even at full price
If you don't know Cloud B, they sell all sorts of items that help get babies and kids to sleep. They've even won awards for their products. I think this is a stellar buy for a new babe or even a child who used to go to sleep on their own and just wants that little bit extra. Lately, I've had to put in two night lights in my son's room, but I think something like this he would also love.
(Expiry: Unknown)