BabySteals: Maman Kangourou Wrap Only $34.99 (EXPIRED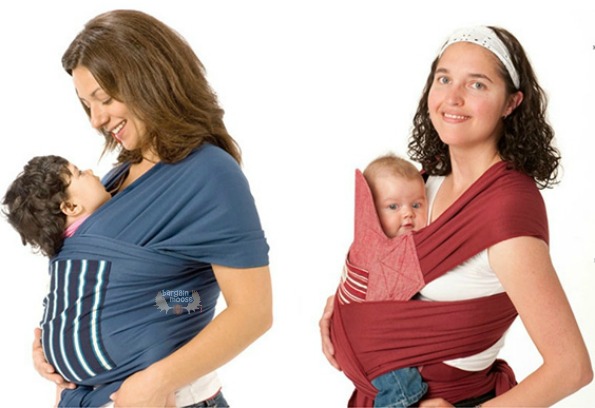 I wanted to blog this deal for you 1) because it is a hot deal and 2) because this product has amazing reviews. Get the Maman Kangourou wrap for $34.99, with a regular price of $65 or more from Baby Steals.
If you are pregnant or have a baby, you might know how great having a baby carrier or wrap is. I've had three babies and I religiously used my carrier while my kids were little. It came in even more handy once my second and third babies came because I really needed my hands! With my first, I would put him in the carrier to get housework and shopping done and he loved being in there and I could get what I needed done while still holding him. Sometimes I would put him in there just to walk around until he fell asleep and then I put him right into his crib. With my subsequent babies, just holding my oldest one's hands while crossing the street was made easy with a carrier.
What's unique about this wrap is that it is made in Canada, but also that you can wear it for as long as you'd like. There are different ways to wrap your baby and you'll find the one that is most comfortable for you and babe. I can tell you that I paid a lot more than $35 for the wrap I had.
There is a small catch to this deal. Baby Steals is American so all prices are in USD and they will ship from the U.S. The shipping cost for this wrap is about $10, but even with that cost and the cost of duty, which came to $4 and is shown right at checkout, this deal still beats any prices in Canada.
Just to show you some comparisons, the Amerigo wrap comes in a variety of colours on Baby Steals for $34.99. I found it at Toys R Us for $69.99. Even with the $15 in extra charges, Baby Steals beats their price by $20 (plus Canadian taxes).
It was at Toys R Us, I found the wonderful reviews. Out of 43 reviews, it has a 4.3 star rating. Check this one out:
This wrap is absolutely great. I have a 6 week old who is very fussy and is colicky. She falls asleep in this wrap right away and stays asleep. It is quite difficult to put her in the wrap when she is having a colic episode but once she's in she's fine. I also own a baby bjorn and this is easier on the back and shoulders. It's a little difficult to learn how to use, the instructions provided and on their website are very difficult to follow I found, but once you figure it out, it's very easy to throw on. Sometimes I am lazy and the baby bjorn is just easier to put on and leave the house.
If you'd like a different style, Baby Steals is also offering the mei tai type for $44.99.
(expiry: 25th September 2014)