Travelocity.ca: Save up to 60% Off Weekend Hotel Getaways & More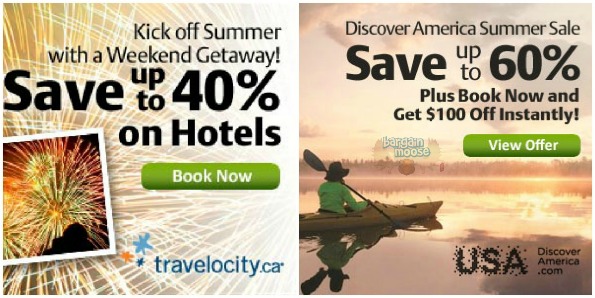 If you are still looking to travel this summer, Travelocity Canada has some ongoing hotel deals and family fun getaways on right now that are worth taking a look at.  Travel within Canada and save up to 40% on hotel getaways or travel to US and save up to 60%  hotel getaways.
When we go on vacation, it is almost always to visit family and friends and have never had to worry about booking a hotel or family package.  I have always thought of those type of family vacati0ns to be very expensive and just not in our budget.  When I looked through some of the deals that Travelocity Canada has on right now, the prices are in fact very reasonable.
I found a very nice hotel that is in walking distance of Disneyland for just $77 a night which is 35% off the regular price.  I have actually been to Anaheim California and I remember seeing this exact hotel (we did not stay there because it was too expensive at the time).  When I saw the price from Travelocity I was pretty stunned.
I like that you can pick and choose your packages from hotels to airlines and family packages.  If you are looking for more of a couples getaway or a fun getaway with friends, you can stay at the Circus Circus in Vegas for just $27 a night which is located right on Las Vegas Boulevard!  That is a crazy deal especially with the super cheap seat sales you can find on flights to Vegas.
These deals will change periodically but the sales will still be on until September 1st.  Make sure to check out all deals including rental cars, flights hotel, train and more.
(Expiry: 1st September 2012)