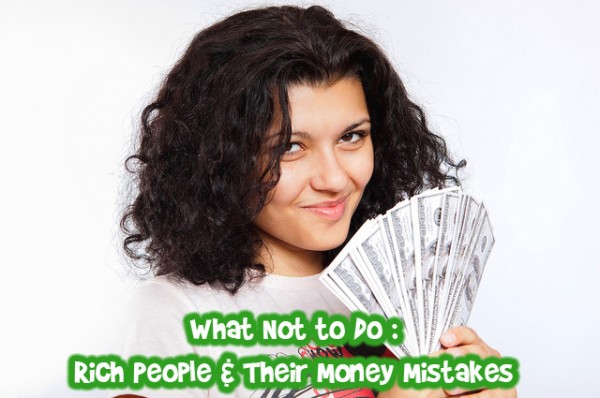 You may think that all of those celebrities, athletes, and jackpot lottery winners making headlines for their multi-million dollar paycheques don't have to worry about a thing as a member of the one percent club, but in actual fact many of those people have gone from rags to riches, and back to rags again. It may be hard to imagine not being able to afford a mortgage or having to declare bankruptcy when these millionaires are, well…millionaires, but just because these people made it big doesn't mean they knew anything about maintaining their wealth or living an affordable lifestyle. Although they probably don't appreciate having their money woes on full display in the media, at least we all can learn from their mistakes.
Nicolas Cage – He may have won an Oscar and appeared in over 60 movies, but Nicolas Cage was once incredibly close to becoming bankrupt. In 2007 the IRS went after him for neglecting to pay approximately $6.6 million in back taxes dating from 2002, as noted by ABC News. On top of this, he had a bad tendency to spend, spend, spend! Most shopaholics are guilty of overspending on shoes, clothing, and eating out, but Cage went several steps further, preferring to buy castles, yachts, and Rolls Royces. Luckily he was able to forego filing for bankruptcy by taking on more blockbuster roles and selling a few of his palatial houses.
Lesson – It's simple really: live within your means.  If you make $50,000 per year, don't expect to live the lifestyle of a rich celebrity; and if you're a rich celebrity, don't expect to live the lifestyle of a royal king in your soon to be foreclosed castle.
Kim Basinger – Nicolas Cage isn't the only actor to make a major money mistake. Kim Basinger, best known for her Academy Award winning performance in 1997's L.A. Confidential, decided to buy the entire town of Braselton, Georgia for $20 million in 1993. What made this an especially bad investment was that at the time she also breached a contract in which she promised to star in a movie she later pulled out of. She was sued for $8 million and since she had just spent most of her millions on a big piece of land, she was forced to file for bankruptcy, as reported by Fox News.
Lesson – Never invest more money than you can afford to lose, and be aware that by breaching any contract there may be major financial consequences. Also, never buy a town. That's just never a good idea.
Antoine Walker – If you're a sports fan, then being a professional athlete may look to you like one of the best jobs in the world. Besides getting to play a sport you love, and getting plenty of recognition for your hard work, your salary is almost always seven figures. So how come NFL player Antoine Walker was writing bad cheques in 2009 when he earned almost $100 million during his career? Besides having a taste for Cartier, he loved to gamble and ended up gambling his entire future away in order to live the high life in Vegas for a few years, explains Bleacher Report.
Lesson – Remember that there is always risk involved with any type of gambling. As much as you may want the odds to be in your favor, the chances of you being richer for longer are exponentially higher if you avoid the casino.
Callie Rogers – This rags to riches story is something every lottery ticket buyer dreams of. At just 16, Rogers won £1.9 million in Britain (about $3 million) and unarguably became the richest person in her high school. Unfortunately, instead of putting the money towards post-secondary education or even putting it in the bank for safekeeping, she ended up blowing her entire fortune by the age of 22, says The Daily Mail. Because she won such a large sum of money at such a young age, she ended up spending her fortune on parties and a greedy boyfriend, and lost everything almost as soon as she had won it.
Lesson ­– Saving and investing are key factors in maintaining your wealth. Also, making sure you surround yourself with people you can trust when the amount of money you have is public knowledge is just as important too. Just because you have money doesn't mean you need to be a human bank machine for everyone to enjoy.
Bargainmoosers, what's the biggest money mistake you've heard of?
(Image credit: Tax Credits)