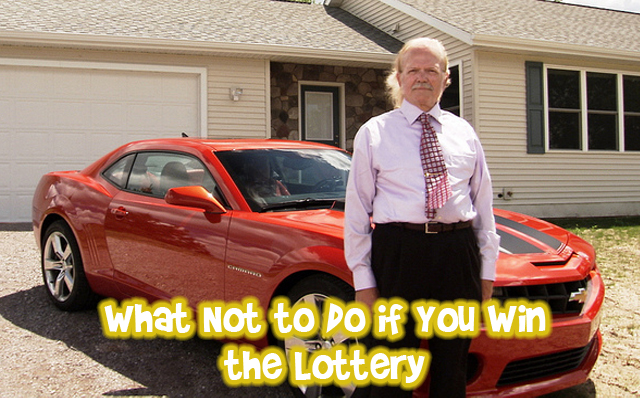 Everyone knows that buying lottery tickets can be a big waste of money, but it's hard not to get caught up in all of the hoopla when the jackpot reaches $55 million! This past weekend the 6/49 lottery reached the largest jackpot in Canadian history, and four lucky winners from B.C. and Alberta will now have a cool $15 million to play around with. Although we all have our own lottery winning fantasies of buying a yacht or moving to the Caribbean, the sad truth is many of the rags to riches tales we hear about later turn into rags to riches then back to rags stories. Hopefully these four newly minted millionaires will be a bit more prudent with their money and won't repeat the mistakes made by some of these past winners.
Sharon Tirabassi – A resident of Hamilton, Ontario, this lucky lady won $10.5 million in 2004. These days however she's living paycheque to paycheque (The Star). How could one person squander ten million dollars in less than 10 years you may ask? Well, she gave away $8 million to members of her family, then spent the rest on "fancy cars, designer clothes, lavish parties, [and] exotic trips" she tells The Hamilton Spectator. This all could have been prevented if she found herself a good financial advisor at the start, but I guess some people need to learn about personal finance the hard way.
Michael Carroll – Some people just like to party, and Carroll partied away his entire £9.7 million payout that he won in 2002. He explains to People UK that he used to spend £12,000 a week on drugs, on top of spending loads more cash on booze and prostitutes. In July of 2012 he said he only had 70 pence in his bank account and still plays the lottery hoping to win big for a second time around. Although it should go without saying, drugs, booze, and ladies of the night don't come cheap (and for the most part are illegal). If you want to have a good time and avoid wasting your millions on a slew of nights you won't remember, order a Shirley Temple and go to Disneyland instead.
Janite Lee – Lee won a whopping $18 million in 1993 with the Illinois Lottery. Instead of spending all of her winnings on big-ticket items, she chose to go the philanthropic route. Unfortunately for her, no one told her that being too generous could also be a bad thing. Case in point, she donated so much money to the University of Washington and the Democratic Party that she was forced to file for bankruptcy in 2001. The lesson to learn here is that even if you have a big heart, if you give all of your money away the only thing you'll be left with is a big fat zero in your bank account.
Roger Griffiths – Another British lottery winner who made some regrettable expenditures, Griffiths won £1.8 million and blew his money on an expensive new home, a Porsche, plus wasted £25,000 to get his old university band back together (The Sun). He also made a few bad investments including a salon that started losing money rapidly once the recession hit. In another turn for the worse, his home caught fire and destroyed a number of possessions worth thousands of dollars. The two key things to take note from in this story are that money always has it's limits and you are never too rich to have an emergency fund. Also, trying to revive your old band from college is never a good idea. If you weren't any good then, you still won't be any good now.
Bargainmoosers, what would you do (or not do) if you won the lottery?
(Image credit: lwpkommunikacio)