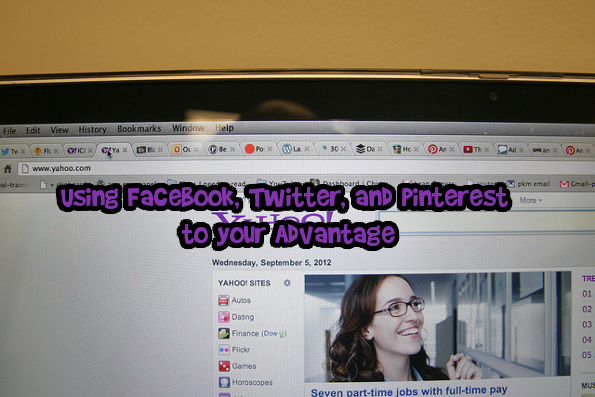 Social Media like Facebook, Twitter, and now Pinterest has become a very large aspect of our every day lives, whether we like it or not. The majority of the time, we use social media to share pictures, thoughts, and ideas with our friends and acquaintances, and even with people who we have never met in person. Despite the commonality that these three mediums share, Facebook, Twitter, and Pinterest are not created equal and there are important differences between them, some that can be used to your advantage as a consumer.
Below are some reasons why signing up for these social media accounts might not be a bad idea after all.
Facebook
Although Facebook has its drawbacks (for example, privacy issues) many companies are using Facebook to advertise their business to consumers like you. Facebook is good because if you "like" a company, you can often get special coupons, samples, or free products simply by liking them.
For example, a few years ago I received a free Neti Pot sample (nasal irrigation solution and device) simply by liking the company that produces Neti Pots on Facebook. I'm sure that if you keep a careful eye on free products, coupons, and samples provided through Facebook, you'll receive much more than a free Neti Pot.
Unfortunately, I often end up "liking" companies and businesses that promise to deliver the said coupons, samples, or free products and never receive anything in the mail or email that the Facebook Fan page claimed to provide.
Twitter
With Twitter, you can tweet and share messages 140 characters at a time. More people have Facebook than Twitter, but I find that Twitter is more helpful for the average consumer than Facebook is. Twitter is set in "real time" which means that you can get a quicker response (and that you don't have to put your life on hold by waiting on the phone).
Why is Twitter more helpful than Facebook? Twitter is more helpful because you can express yourself (albeit in 140 characters at a time) and mention the company in question if you are having a dissatisfied experience. It helps keep companies accountable. If you complain on Twitter, usually the customer service rep or the individual employed to manage the Twitter account will get back to you via a Direct Message (DM) to help you solve your customer service complaint.
In addition, with Twitter, you usually get a response in real time- which means that as an individual who is part of the business is working in the evening to serve you in the evening.
Companies want to show that they are accountable and that they listen to the people and their customers. Therefore, they will try their best to please you, especially on a public domain.
Pinterest
Pinterest is a content sharing website that allows you to "pin" your favourite pictures that you find on the internet, sort of like a bulletin board. According to the website, many people use it to pin things to give inspiration for decorating their home, planning their wedding, or even as a place to store recipes.
I must admit that I have not tried Pinterest yet, but am inclined to do so after I learned that it is not all about shopping, style, and increased materialism and consumerism. I initially had the perception that Pinterest was mainly based on "wants" versus "needs" and that it simply stimulated increased spending.
I have since learned that the Pinterest board is what you make of it and you can keep the board private if you wish. I have also learned that there is much you can Pin that is "Do it Yourself" and doesn't involve spending at all, contrary to my previous assumption. In fact, a recent article in The Atlantic argued that Pinterest can actually help you curb your consumerism because it gives you the instant gratification you need without you having to pull out your wallet.
With social media like Facebook, Twitter, and Pinterest, it can be difficult to spread your time evenly among these three different social mediums. However, acknowledging that Facebook, Twitter, and Pinterest all have different aspects that make them unique is important to consider when you only have limited time to spend on social media sites.
Bargainmoosers, of the three- Facebook, Twitter, and Pinterest is which is your favourite social media outlet as a consumer? Why?
(photo credit: theanthonyryan)