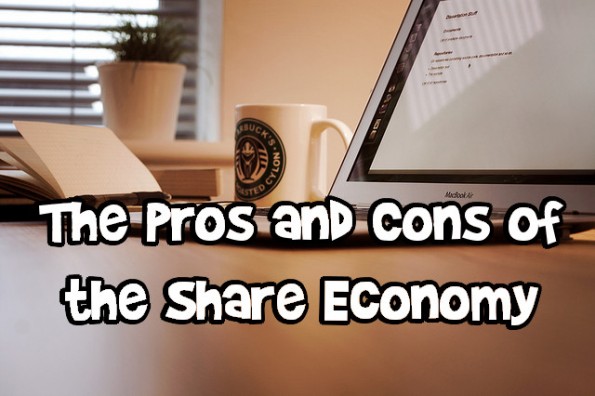 Recently, we did an article surveying what's out there in the share economy and detailing how you can save money by taking advantage of services from TaskRabbit, Fiverr, Uber, Elance and more.
While it is certainly true that you can save money and time with these websites, there is a bit of a dark side to the share economy that everyone should be aware of before wading into these new waters. Bargainmoose is all about saving money, but sometimes you need to use caution when doing so and its important to get the full picture.
With that in mind, we present the advantages and disadvantages of the share economy. This list will hopefully mean you'll always know what you're getting into with this new way of making and spending money.
Pro
Freedom and Flexibility
These two tenants are often touted as reasons to become a tasker on TaskRabbit or to complete a job on Elance and they are very true. Working any job as part of the share economy largely means you can set your own hours and work with who you want, when you want -- all while setting your schedule from the comfort of home. Plus, the extra money you earn can be put towards your own financial freedom.
Con
Unpredictable Wages at Unpredictable Hours
Along with that freedom and flexibility comes unpredictability. No one should try to make a living solely on gigs garnered from the share economy because often the wages are a mere pittance compared to what a worker would get for the same service if they worked for a professional company. This is because bidders often undercutting each other with bids well below minimum wage. In a recent New York Times article, author Natasha Singer pointed out that those with no stable full-time job are turning to the share economy and trying to cobble together some semblance of an income without much success.
"They often work seven-day weeks, trying to assemble a living wage from a series of one-off gigs. They have little recourse when the services for which they are on call change their business models or pay rates. To reduce the risks, many workers toggle among multiple services."
One economist source told Singer: "If you did the calculations, many of these people would be earning less than minimum wage. You are getting people to self-exploit in ways we have regulations in place to prevent."
Pro
Insurance and Peer-Review
One of the great things about the share economy is that most sites like TaskRabbit and RelayRides offer insurance to protect you against damage or theft when someone else is driving your car or inside your home doing a chore. Perhaps more integral to even the necessary insurance in the shared economy is the peer-review system that ranks and reviews tenants, guests, taskers, drivers and more after they do a job or stay in your home. Those who do well get recommended, promoted to the most viewed parts of the site and get more jobs or offers, while those who end up providing a bad experience are harshly reviewed and ostracized by their peers on the site. It's the number one homegrown system of checks and balances in the share economy.
Con
The Share Economy is Largely Unregulated
Across North America the share economy means that millions are renting out their homes like hotels or using their cars as taxi cabs and still these practices remain largely unregulated, but lawmakers in the U.S. are trying to change that.
This particularly true in larger urban centres like New York City and Chicago. In New York, legislators are trying to regulate the operations of Airbnb by charging their in violation of New York's Illegal Hotel Law, which makes it illegal for New Yorkers to rent out their homes for fewer than 30 days unless the resident is living in the apartment at the time. Car-Sharing service Lyft was also banned in New York for what regulators called "disruptive" and "personally dishonest" business practices.
Of course, these regulations look like they're just in place to protect already entrenched industries like hotels and taxis, but Micah Lasher, New York Attorney General Eric Schneiderman's Chief of Staff, told Freakonomics Radio that regulating the share economy actually protects people.
"One of the big issues is the question of externalities and external impacts. In other words, if my next-door neighbour is using their apartment as a hotel room, they're not just running a risk of their apartment getting trashed, they're having an impact on me. Similarly, in the case of Lyft, if one of those drivers gets into a car accident, doesn't have appropriate insurance, that can have an impact on a whole bunch of folks who did not sign up for that."
Pro
The Democratization of Luxury Services
One of the best things about the share economy is that services previously reserved for high class individuals like chauffeur services, maid services and professional consultation services are now available and affordable to the masses. Plus, now anyone can do them. If you have initiative and an entrepreneurial spirit, you to can be a hotelier by renting out your home for a few days or a taxi cab driver by driving people around in your car. In the past, it used to be that these services were only available to those who could afford it, but now these services are available from regular people at a variety of price points – most of them affordable to the average person. These services used to be extras reserved for special occasions, but now they could be affordable enough to be enjoyed on a regular basis.
Con
Limited Safety and Corporate Oversight
Whenever you're sharing your personal belongings like your car and your home with a stranger you just met online, the question of safety is always an issue, especially for women. Sites like CouchSurfing.com offer safety tips, but many of the companies in the share economy put the onus on you, the individual user, to keep yourself safe and take very little responsibility for your safety as a business. For example, these companies could make background checks of participants mandatory instead of optional if they wanted to.
According to an article on Sharable.net, When a female Air BnB user identifying herself as EJ found her home ransacked and identity stolen by a renter named DJ, she noted that even though AirBnb responded swiftly and appropriately after the fact, (despite not having a 24-hour emergency helpline and not responding until 14 hours later) they made it difficult to research her potential tenant until the reservation was bought and paid for. She wrote the following in a blog post detailing her ordeal:
"By hindering my ability to research the person who will rent my home, there is an implication that airbnb.com has already done the research for me, and has eliminated the investigative work that Craigslist requires. In effect, the friendly, community-based site with its Golden Rules creates a reasonable expectation that some basic screening of its users has occurred, and speaks little to the risks involved, primarily within the very small print of the lengthy Terms of Service. Thus by the time this reservation was confirmed and I was given Dj's email address and phone number, I was on a plane heading East, and he/she was armed with my welcoming instructions on where to pick up the keys to my apartment."
Photo credit: Alex: