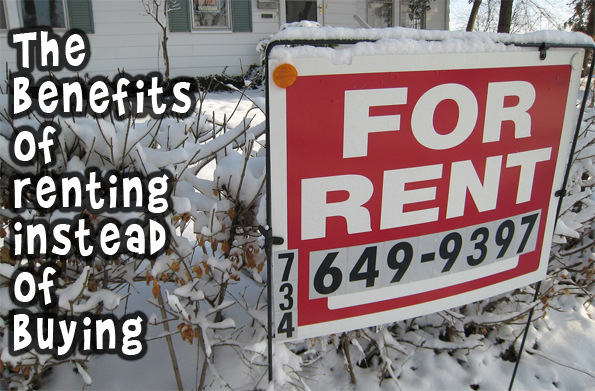 Have you ever heard the saying "renting is like throwing your money away"? As a current renter I whole-heartedly disagree. Renting a place as opposed to living with your parents rent-free or being a professional couch surfer is not a terrible investment, despite what real estate agents and homeowners may tell you. If you are saving up for a down payment, or can't afford to buy a place in your area quite yet, then renting is by far a better option than getting stuck in a 30-year mortgage that you can barely afford to pay.
That's not to say that I think you shouldn't invest in property. I seriously believe that buying property is one of the best investments you can make, if you can afford all of the risks and extra expenses that come along with it. Before you jump the gun and start house hunting, I encourage you to consider all of these benefits of renting first. You may be surprised how much money you can actually save by being a tenant instead of a homeowner.
1.) You can negotiate to lower your rent.
Just like when you are low-balling an offer on a home when the market is low, you can do the same when putting in an offer on a rental. If there is a surplus of rentals in your area and not much demand, negotiate a lower rental rate or threaten to walk. Without any competition, the owners may have no choice but to accept your offer to ensure they get a tenant giving them a cheque every month as soon as possible.
2.) Your only risk is losing your damage deposit.
There are a ton of risks involved with buying a property, including expensive repairs or the housing market taking a dip and you losing thousands of dollars of value on your home. When you are renting, the most money you'll ever risk losing is the couple hundred dollars you gave your landlord for a damage deposit. To prevent that from happening, make sure your place doesn't turn into the Jersey Shore house, and repair any cosmetic damage (fill in holes, paint the walls, shampoo the carpets) before your landlord comes in for a formal inspection.
3.) If anything breaks, you don't have to foot the bill.
Most rentals are usually older places, which means a broken pipe or leaky roof may be inevitable. The good news is since you aren't the owner you don't have to pay to fix it. As long as you didn't cause the damage, you aren't responsible for footing the bill on any repairs. That being said, landlords are notorious for taking months to fix the simplest repair. As long as you are patient, you could end up saving a lot of money.
4.) If you hate your place, you can move.
Although most rentals come with a 6-month or 1-year lease, if you realize once you start renting that you can't stand the mystery smells coming from the suite across from you, or your noisy neighbour who loves to blast reggae at six in the morning, you can move. However, if your lease isn't up yet, you may risk losing your damage deposit. Then again, if the reason you want to leave is because of a violation with your tenancy rights, you can fight your landlord to make sure that money is returned to you before you leave. As a homeowner, it could take months or even years to sell your place and buy a new one. As a renter, you have the freedom to give your notice, pack up your things, and get the heck out of there whenever you want.
5.) Rent is almost always cheaper than having a mortgage.
Even if you are living in a really expensive city, paying rent is still most likely cheaper than having a mortgage. If you want to make sure that in the next couple of years you are able to save up as much money as possible to either buy a place or fulfill some life long travel plans, then renting is definitely the way to go.
Bargainmoosers, why did you choose to rent or buy your home?
(Photo credits: mollyali)
Editor's Note: When signing a lease, whether it's for one month, six months, a year or more, please read the fine print! If you wish to leave a lease at the end of its term, you may need to give your landlord several months notice. Otherwise the lease may renew automatically. In addition, if you want to break a lease early (leave before the leasing period has expired) you may be on the hook for rent for the remainder of the lease if the proper precautions aren't taken.
All of this information should be in your copy of the lease. For any questions about the ins and outs of renting, and what rights you have as a tenant, please contact your local rentals-man. They exist to help out tenants and landlords. A Google search should be able to locate one for you pretty quick.