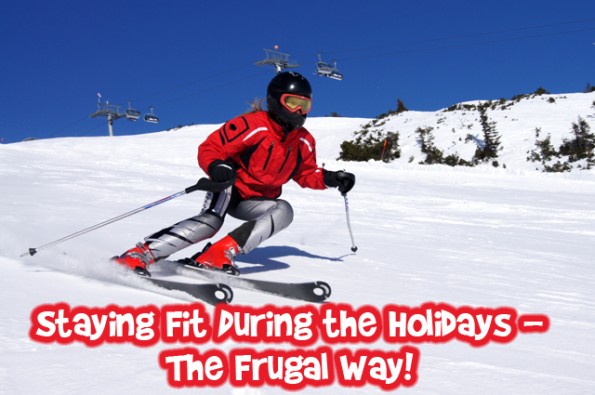 The holidays are a great time of year to reconnect with family and friends, give back to your community, and of course enjoy some incredibly yummy food. Even though it is good for the soul to let yourself indulge in some sweet treats every once and a while, some people choose to go a bit overboard during the holidays, making it no surprise that one of the most popular New Year's resolutions is to lose weight. But getting back into shape shouldn't be something you do only after you've sufficiently stuffed yourself with half a turkey and a dozen sugar cookies. I personally believe that if you can maintain a healthy diet and regular exercise routine during this season, then the rest of the year will be an absolute piece of cake. Moreover, you can avoid paying hundreds of dollars to all those diet programs if you just make sure to stay fit this holiday season the frugal way.
I've written about how to eat healthy on a budget before, but I think the key to maintaining this routine during the holidays is to allow yourself some cheat days. If you are having a big family dinner for Christmas or Hanukkah, make that one of your cheat days so you don't feel guilty about eating some cheesy kugel, or feel the need to skip out on grandma's famous stuffing. The same goes for any holiday party you'll be attending, because if there's one big reason we all go to them, it's the free food!
Although cheat days may allow you to indulge in some high caloric foods for a bit, the old adage "everything in moderation" shouldn't be thrown out the window either. Avoid asking for seconds, don't put more food on your plate than you know you should eat, and listen to your stomach. You may think you are still hungry, but that might just be your taste buds talking.
As for getting some regular exercise this holiday season, there's nothing like a long run or bike ride to stay frugally fit. If the idea of going for a run outside sounds like a great way to get frostbite, then staying in and doing some work out videos might be a better option for you. You can get plenty of work out videos for free at the library, or you can find a number of them posted on YouTube. If you know of a few friends who are also looking to get fit, see if they want to split the cost of purchasing some work out videos so you can all share.
If you are more of a gym person by nature, try checking out your local community centre. Often their rates are significantly lower than any gym chain, plus they sometimes offer dance or other fitness classes for cheap.
For all you skiing and snowboarding lovers, unfortunately taking up the sport can sometimes lead to some big bills. The gear, the clothing, the lift passes: these ski and snowboard essentials are all relatively expensive to buy. Of course, that doesn't mean there aren't a few ways to cut down on costs to make it more affordable. See if you can borrow some equipment from someone you know. Look into whether it will save you money to buy a pass early. And lastly, if you don't mind doing a bit of volunteering, many ski mountains offer free lift passes to snow patrol volunteers.
Staying fit throughout the holidays may make you want to shout "Bah Humbug!" but it's the best way to prevent gaining some unwanted pounds leading up to the new year. That is unless you are planning on dressing up as Santa this year, in which case all bets are off!
Bargainmoosers, do you try to stay fit during the holidays, or do you consider it one big cheat month?
(Image credit: al71)