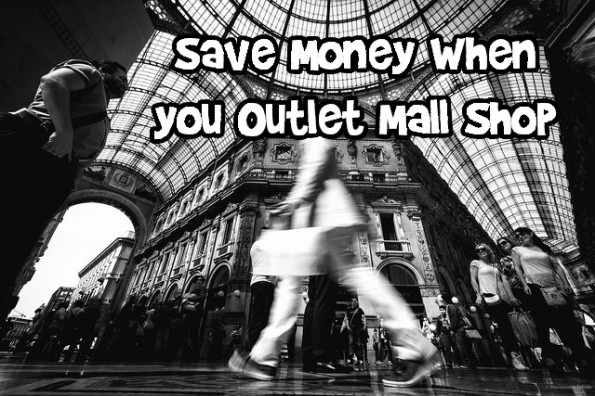 These days, outlet malls south of the border are a little more expensive now that the Canadian dollar is so low.  Nonetheless, many people (including myself) still find shopping south of the border more economical than staying up here in Canada shopping in the malls.  I'm a big fan of outlet malls and actually tend not to go shopping in regular malls very much.  What can I say, I love a good deal and bargain!
Recently, they opened up an outlet mall near the Vancouver airport and although there were tons of people there, I still found that going to the states (near Seattle) was better... maybe it is the idea that I went so far to get something so it must be special...?  Maybe not!
Here are some ways to save money the next time you outlet mall shop:
Skip the Foreign Currency Fee
With the low Canadian dollar, it makes sense to try and avoid any extra fees associated with foreign currency transaction if possible.  For every foreign dollar purchase (e.g., US dollars) not only do you have to pay the currency exchange rate (which is not favourable in the first place when you charge it on your credit card), you will have to pay an additional 2.5% foreign currency transaction charge just for using your credit card.
Skip that 2.5% surcharge by going with a Chase credit card (like the Marriott card or the Amazon.ca card) or holding US dollars in a US dollar account and getting a US dollar visa (there aren't many that do not have an annual fee though).  In addition, you can go with a Royal Bank cross border banking (credit and debit account), which is a bank account based in the United States, so that you can avoid the currency exchange and currency exchange fee.
Look for Coupons and Sign up to be a VIP
Yahoo Finance recommends looking for coupons or free membership and signing up for them.  For example, with the Premium Outlets VIP membership (free to sign up), you get a discount on certain stores and they will email you to notify you of any major deals.  It gives you the chance to score better deals at the outlet.
Know Your Store
According to Wisebread, not all outlet stores are made equal.  There are three different types of outlet stores.  An actual outlet store, a regular retail store disguised as an outlet store, and a factory store.  Wisebread states that actual outlet stores are the ideal, where there are things you would find in the regular stores but at a largely marked down price.  Examples of actual outlet stores they quoted are REI, Land's End, and Coldwater Creek.  A factory store contains clothes that you might not find at the actual retail stores and the quality may be different (e.g., worse).  Examples of factory stores include you guessed it, Banana Republic and Gap.  Gymboree and Eddie Bauer are other examples.  Finally, the least palatable in terms of outlet mall shopping is the regular retail store, where you find regular stuff (and prices) that you would find at the regular store.  Old Navy, American Eagle Outfitters, and Sunglass Hut are examples, per the Wisebread article.
Don't be Afraid to Leave Empty Handed
Another way to save money is to understand when to walk away.  That's why having a NEXUS card is beneficial because you didn't have to line up for 30 minutes to two hours to go shopping at the outlet mall.  Five minutes, maybe, but not two hours.  Money Sense magazine also recommends not going over the allowable limit, of course.  Check out this Bargainmoose post on allowable limits for groceries if you're planning to go grocery shopping on your way back from the outlet.
Wait for the Special Occasions
Oftentimes, the outlet malls will post additional savings (e.g. save an extra 40% off this weekend) during special occasions and holidays, such as Thanksgiving, May long weekend, Labour Day.  As long as you can avoid the crowds (perhaps by getting there early and leaving early) these will be great opportunities to get something at the outlet on an even deeper discount than you anticipated.
Bargainmoosers, how do you save money on outlet mall shopping?
Photo credit: Marite Toledo