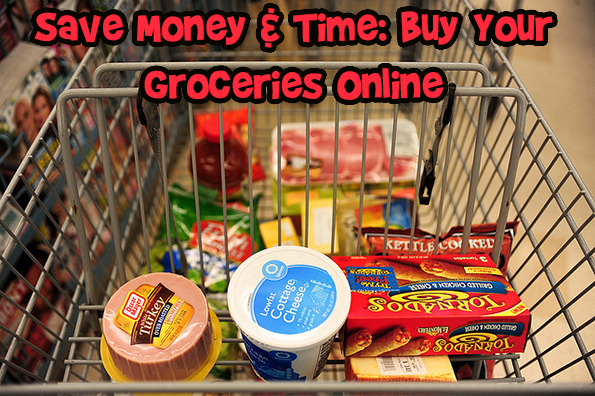 As someone who works fifty hours a week (and sometimes more), I often have trouble making sure I am well stocked up on food for the week.  If it weren't for the grocery stores close by, I don't think I would be able to batch cook for the week like I am doing right now to save money on my food budget.  I often try to wait until it is a 20 times the points day at Shoppers Drug Mart before I make purchases like shampoo and conditioner, or even dish soap.  However, even when it is a 20 times the points day at Shoppers, sometimes I don't have time to go there to shop.
That is why when my friend sent me a referral code to save $40 on my $75 purchase for something called Spud.ca, I was quite excited. Being able to browse from the comfort of your own home and have the food delivered to your door while you are at work is kind of amazing!
Spud
I had heard of Spud for a few years, but never used their services.  I know that they deliver your groceries in a Rubbermaid container and have a set delivery date.  I know that they have locally produced groceries and a lot of organic groceries selection.  Also, they are conscious of the carbon footprint and let you know how far your groceries traveled to get delivered to you.
Spud is available in:
Vancouver (lower mainland)
Victoria to Nanaimo
Edmonton
Calgary
and even Seattle, San Francisco, and Los Angeles
Unfortunately, Spud is not available in Eastern Canada yet, but perhaps there is something similar to Spud in the east.
I signed up for Spud and bought my $75 worth of groceries and was only charged $45 after taxes because of the promotion.  Unfortunately the promotion is over, but they have an ongoing referral promotion that if you refer your friends to Spud you get a $20 credit for your groceries (and they get $20 off of a $75 purchase).
The process was easy and straight forward, and my groceries came packaged with great care, including some ice packs (that you can re-use or return to Spud!) to keep my yogurt and meat cool, and some dry ice packages to keep things extra cool.  It was a great feeling to come home from work and have my grocery shopping all done for me. I think this feeling is much akin to the feeling you get when you come home and dinner is already made with the slow cooker.
I was very happy with my Spud purchase; the prices (if the items are on sale) are very reasonable.  I don't know if I would purchase the produce from Spud because I like to make sure I select my own produce.  However, my friends who used Spud were very happy with their produce purchases and say the produce is very fresh. The only downside is that in order to qualify for free grocery delivery, you need to spend $35.
Amazon.ca
For a few months now, Amazon.ca has launched a pilot project of grocery delivery.  Check out the Grocery section of the Amazon.ca store here.  However, the items available on Amazon.ca are non-refridgerated grocery products (that means no milk or yogurt unfortunately).  They even have an organic and natural section.
Personally, I am not a fan of having more boxed products and cardboard being delivered to my home. Because I live in an apartment it would be difficult to have UPS or Canada Post deliver groceries via Amazon.ca to me.  I would have to go to the local postbox holding company and pick up my parcel there.
Might as well go grocery shopping, if you ask me.  However, I can see this working well for people who live in houses where packages can be left on the doorstep.
There are also a bunch of local grocers who can do delivery, but you may have to pay a delivery charge or purchase a minimum amount of groceries.
Bargainmoosers, have you tried online grocery shopping?  What do you think?
(banner image credit: eddie welker)