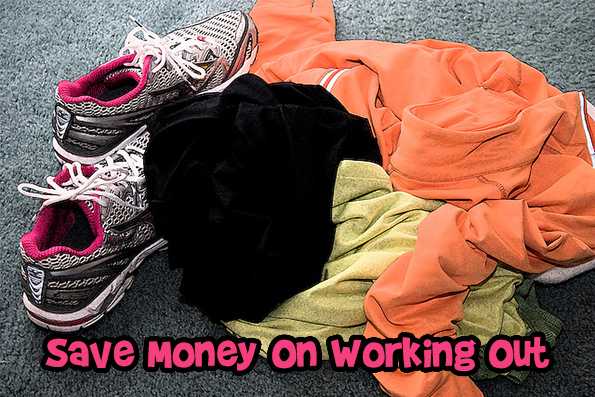 Since the beginning of this year, I have made a conscious effort to work out and to incorporate personal fitness and exercise into my weekly routine.  It all started with training for the half marathon that I did earlier this year.  I realized that incorporating exercise does not have to be expensive - you just have to have the will power and the motivation to do it.  Motivation is free (and simultaneously priceless).
I have never been one to join the gym (I prefer to be outdoors rather than cooped up indoors) so I never was suckered into buying $30 to $100 monthly gym memberships.  This is probably the key to saving money on working out.  I believe that if you are going to join a monthly membership you should join something that has a set schedule or set times that you need to make a commitment to.
The recommendations for a healthy fitness level is 30 to 60 minutes on most days of the week (four to seven days a week).
Here are some ways in which you can add some fitness to your weekly routine without breaking the bank:
Free or Frugal Fitness Ideas
Take up running:

 There's a reason why there are so many runners out there.  It is a relatively cheap workout that allows you to have high aerobic activity and a high amount of cardio.  The only costs are initial ones, as you have to pay for running shoes and running gear.  Run clubs are usually free to join and a great way to meet people.

Work out as part of your commute

:  This is probably one of the best ways to incorporate fitness into your weekly routine without adding to the budget and without adding too much to your already busy schedule and US News agrees.  If you live within biking distance to work, biking is a great way to put in a workout.  Also if you live within running distance you can also run to work.  Check out if your office has showering facilities.

Workout at home:

 Although this is probably difficult to stick to for most people, if you have the self-discipline, working out in the privacy of your own home is a great idea.  Pilates videos, yoga videos, even P90X videos are low cost and can continue to help you work out for years to come.  I have used the same yoga video for the past eight years and haven't gotten sick of it yet.

Utilize your Amenities:

If you live in a condominium or another facility with amenities such as a gym or a pool, make full use of it!

Check out your local community centre:

When I needed to use the treadmill to get my run in during the cold icy winter, I often went to the local community centre gym.  To work out it only cost $2.50.  That's pretty good if you don't plan to go that often and you just need to use the gym facilities infrequently.  Oftentimes, pool access is also similarly priced and reasonable.

Check out daily deals sites:

Fitsugar suggests that daily deals sites often have great workout or intro classes available.  I purchased a kayaking weekly session for half of the regular price (saving $50)  just by doing a quick google search.
Although frugal and free fitness suggestions are great, sometimes it can be hard to stick to these, which is why people often go for the expensive workouts and gym memberships - to get the motivation and external accountability. There are ways to increase your self-motivation and internal accountability; Huffington Post shares how to increase motivation and will-power:
Write it down. This announces to the universe your intentions and keeps you accountable.
List reasons why working out is important to you - list the benefits, list the importance of achieving these goals
Reward yourself when you reach sub-goals.
Predict sabotage thinking and think of ways to act on these thoughts - for example, making excuses for not to exercise.
Put reminders in your calendar. This works well for me because if I schedule it into my calendar, it increases the likelihood that I will complete the exercise task.
Bargainmoosers, do you have other frugal and fun fitness ideas that you use?  More importantly, how do you motivate yourself and keep yourself accountable?
(banner image credit: Heather Dowd)