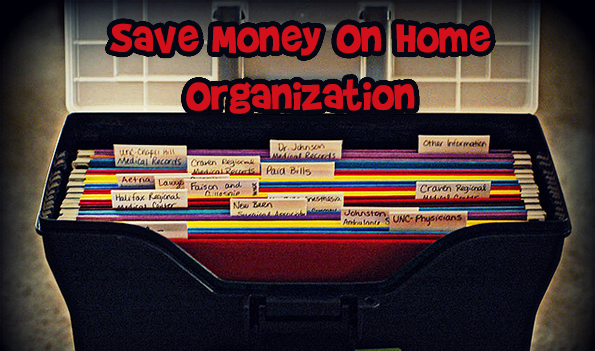 The leaves are changing; fall is coming, and there's nothing better to get you ready for the school year than a little bit of home organization.  Sometimes when we are not organized we end up spending more money because we can't seem to find anything, feel more stressed, and accumulate more clutter.
Why is it important to organize your home?
First off, it's important to organize your home in order to save money because you'll be less inclined to buy duplicates. When we do not take stock of what we have, we are unaware of what we have, and then we end up buying more items and wasting money.
Apartment Therapy also suggests that when you organize your home, you'll feel less clutter, you'll feel more happy in your home, and ultimately you will feel less inclined to redecorate. It is this restless energy that comes from a cluttered home that may prompt people to redecorate and change things up.
Finally, Apartment Therapy also agrees that when you have a place for everything to go to, you will save time finding things (not to mention frustration). This frustration and stress is a cause of medical bills, sick time, and according to Life Hack, stress is a factor and cause in 80% of our medical bills, so it makes sense to reduce stress as much as possible.
Here are some ways to save money on home organization. Doing something to help you feel organized and allowing you to save money simultaneously? It's a win-win situation if you ask me!
Drawer Dividers
Drawer dividers can be created easily and probably provide one of the best 'bang for your buck' fixes in terms of home organization. After all, it is Murphy's Law, things just naturally get messy in your drawer the more often you open and close it, right? According to HGTV, all you have to do is grab some strong cardboard or plastic, and divide it up. Alternatively, you could spend a little bit of money at the local dollar store to find some drawer dividers. Gone will be the days of mess and disorganization in your drawers!
If you're hard pressed for time to make some drawer dividers, another thing that works well is using ice cube trays for small knick knacks that add clutter, such as rubber bands, paper clips etc.
Re-Use Jars with Lids
Who needs fancy Mason Jars? Premeditated Leftovers, a blog about natural and frugal living doesn't think you need fancy mason jars to organize your home.  Just reuse the jars with lids that you have. Mayonnaise jars, food jars, pasta jars: they are free Mason jars in disguise. Besides, you are helping the planet by reducing and re-using.
Printable Organizing Lists
A Cultivated Nest (a great blog about inspiring frugal ideas for your home and garden) has a great list of ten printable organizers from other great blogs that will help you save money. Describing everything from a printable sales cycle planner, coupon binder pages to a monthly budget chart, this is a great post to keep bookmarked.
Cheap and Easy Organization Tips
Check out this post on A Cultivated Nest on inexpensive home organization ideas that can be easily implemented without having to spend a fortune on an expensive home organization place like The Container Store. One great example that I love is the cracker box container lid holder. It easily stores your Tupperware or Glad container lids and keeps them organized. One thing I would do is to cover it up with some wrapping paper or paint to make it more elegant looking.
I would personally love to see my home more organized than it currently is and I think that I need some shelf dividers and some more baskets to hold things, because I am finding my place a bit cluttered. I am a huge fan of the Ikea dish divider (I use it as a shelf for my clothes in my Expedit shelf) and plan to get more. Time to make a trip to Ikea!  Also, it is time for some late summer/early fall cleaning if you ask me.
Bargainmoosers, do you have ways in which you save money on home organization that you can share?
(banner image credit: Becky Wetherington)