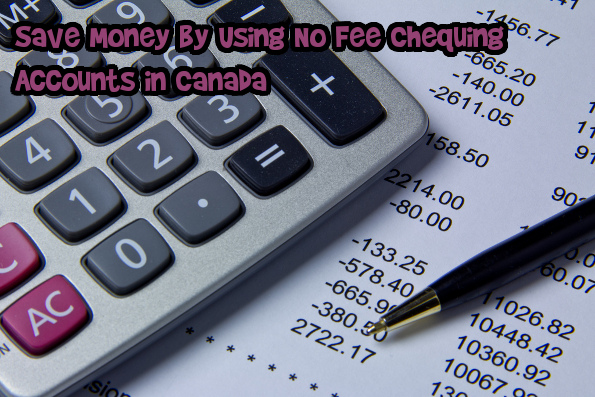 It's amazing how much banking fees can add up over time. These days, banking packages seem to be the "crème de la crème" packages where you get a lot, but you're also paying a lot too.
For example, I have an RBC chequing account that we use for our mortgage payments. If I didn't have the two banking products with RBC, the monthly charges for this account would be $10.95, which might not seem like much, but over time they really adds up. On an annual basis that would be $131.
It really doesn't make sense to me to charge people for putting money in your bank, especially when banks clearly use the money you deposit to profit from. I guess that's why some banks waive the fee if you have a monthly minimum.
Here are a few chequing accounts available in Canada that don't charge a monthly fee so that you can save money on banking:
PC Financial
Presidents Choice Financial is associated with Loblaws (the big company that owns Superstore, Extra Foods, and No Frills etc.). They have a no fee chequing account and have ATMs at their stores. You can also do your banking at CIBC ATMs for free as well because they have a partnership with them.
In addition, you can collect PC Points that you can use towards groceries. Every time you make a debit card transaction at one of their stores, you get 5 points for every $1. Minimum redemption is 20,000 PC points for $20 off groceries. Here's an excerpt from their website:
5 PC points per $1 spent on your bank card at participating stores where President's Choice® products are sold
10,000 PC points when you set-up direct deposit for your paycheque or pension to your no fee bank account
250 PC points per month when you keep an average monthly balance of $1,000 to $4,999.99 in your no fee bank account
1,000 PC points per month when you keep an average monthly balance of $5,000 or more in your no fee bank account
ING Direct Thrive Chequing Account
This Thrive chequing account is relatively new, though ING Direct has been in the game for a while with their high interest savings accounts, which I am a huge fan of. The interest rates are pretty good for a chequing account, starting at 0.25% and you get 1.00% if you have more than $50,000 in your chequing account. (I sure know I don't have that much in my chequing account!)
The automatic banking machines available for you to do your banking are through the Exchange Network and there are over 2000 banking machines across Canada. These are primarily credit union banking machines and HSBC or National Bank banking machines. Here's a link to their ABM locator to find one near you.
Thrive Chequing must be pretty impressive because it was voted Product of the Year in 2011 by a consumer survey of product innovation.
The Big Banks
All the other big banks waive the monthly ATM fees if you keep a minimum balance. Some are as low as $1000 but it usually averages $2000 minimum. To me, I view my minimum balance as part of my emergency fund and this helps prevent me from swinging below the minimum cut off.
RBC is unique in that if you have a mortgage, an investment (could be something as simple as $100 in a TFSA), and a credit card with them, you will be eligible for something called the Multi Product Rebate. The multi product rebate gives you free No Limit Banking (worth $10.95) per month. If you're over 60, you only need to have a credit card with RBC to be eligible for this discount.
Make sure to Tell them You're a Starving Student if You Are One
BMO gives you free chequing if you show them your student card but you need to show them this regularly. They also give you one free year after you graduate as well.
RBC has a free chequing account for students too (worth $10.95 per month) as long as you have a qualifying investment with them and a student credit card.
Save Your Money
As we all know, every dollar counts, especially when it comes to banking. No fee chequing accounts are important since we rely on them day-to-day and the last thing you want to be hit with is indistinguishable charges here and there on your banking statement.
Bargainmoosers, if you have no fee day-to-day banking, which bank is your favourite?
(Image credits: kenteegardin)