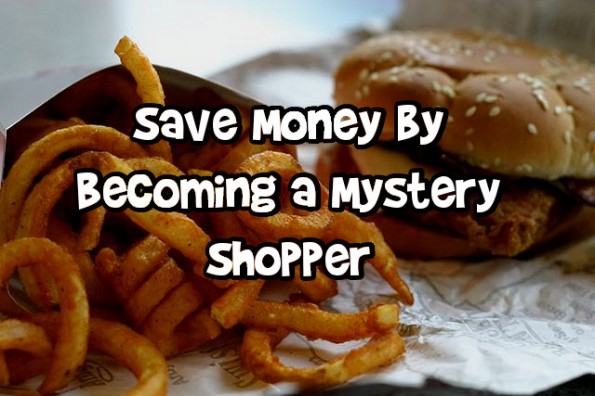 I have not tried mystery shopping but have been intrigued by the idea for a number of years, and in fact, I think I have wanted to do it ever since I was in high school but never got around to it (talk about aspirations as a young teenager, right?).  I first heard about it when I was working in retail in a department store, and was notified that I had a positive review on a mystery shop.  I think I'm going to take the plunge soon and sign up.  I have talked to a number of people who have dabbled in mystery shopping and I have not heard of any negative experiences.  It seems like a fun way to try something different (on someone else's dime!).
Here is how to save money on your family budget by becoming a mystery shopper:
What is Mystery Shopping?
Mystery shopping is where you (the mystery shopper) purchase goods and services from the food/ beverage or retail environment.  The mystery shopper evaluates many details, including the environment of the shop or restaurant, the service, the food (if you are mystery shopping in a restaurant), and then provides a critical review of the services rendered.  It isn't simply limited to restaurants, but involves all sorts of different services and activities, including gas stations, restaurants, retail stores, and so forth.  It isn't a part-time or full-time job, but you get reimbursed for the food or services rendered.  It can be a lot of work answering questions and providing a detailed, critical review, so it's not necessarily a "walk in the park" or a "free meal" (but it is at the same time, if you get what I mean).
What are the Pros of Mystery Shopping?
Some of the benefits to mystery shopping include being able to go out for dinner (I know someone who does mystery shops to a local restaurant chain every few months) with a $50 limit.  You can purchase a beverage, an entree, a dessert (according to the mystery shop instructions) and then the company reimburses you.  Another company pays for your gas if you mystery shop at a gas station.
Another benefit of mystery shopping is being able to "splurge" or fulfil that eating out craving or shopping craving in a controlled way with someone else paying to fulfil your craving!
Also, it can be a fun family activity and a great way to offset the costs of 'going out' for meals or other things that you would not normally do because it is expensive.
It is something fun to do if you have the time and if you like to provide reviews of the customer service you received.
What are the Cons of Mystery Shopping
Some of the negative attributes of mystery shopping include that it can take a long time to write the reviews.  You're not necessarily making any money (though some companies reimburse you for your time, by paying you $7 per mystery shop on top of the allowance for your purchase).  However, on Forbes, this woman made $14,000 mystery shopping so to each their own!
The other downside with mystery shopping is that you need to be able to converse and chat and get employee names.  You need to be detail oriented.  So if you are on the shy side, this job might not be for you.
In addition, you have to be careful as there are some mystery shopping scams out there, make sure you sign up with a reputable company.
How do I get Started with Mystery Shopping?
If you are still interested in getting started with mystery shopping and think it might be something fun for you or your family to do together, here are some mystery shopping companies to look into:
Retail Track - This company has been around for 22 years
Performalogics- they mainly operate at gas stations, service stations, hotels, and restaurants
Marketforce.com- they claim to be the largest mystery shopping organization in the world
There you have it, hopefully this post inspires you to mystery shop to save money if that's what you enjoy doing!
Bargainmoosers, have you ever mystery shopped?  If so, what are reputable companies that you would recommend?  What was your favourite mystery shop memory?
Photo credit: ebruli