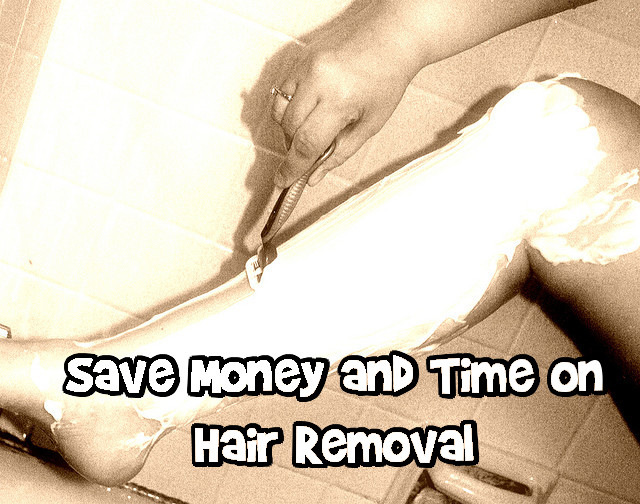 This has been quite the topic for my friends and I lately, perhaps because two of my close friends decided to get laser hair removal and love it.  They tell me "If I were able to have a conversation with my 22 year old self, I would definitely tell her to get laser hair removal."  I personally have not taken the plunge yet due to the cost and the permanent nature of it (perhaps I am somewhat of a commitment-phobe).  Hair removal is unfortunately a necessity for me, and I have tried waxing, shaving, epilating, and other hair removal modalities.
Here are a few options of hair removal and ways to save money and time while removing your unwanted hair.  The prices mentioned are estimations of cost based on my own experiences.
Shaving
The costs involved for shaving include having to buy disposable razors regularly or buying an electric razor.  You would also have to buy shaving cream ($3-10) to ensure you do not knick yourself when you shave.  A pack of disposable razors can cost anywhere from $7 to $23 (which will last you a few weeks) and an electric razor can cost at least $100.  When you factor in the time spent shaving (almost on a daily basis) and the risk for 'stubbly' legs when you don't shave on a daily basis, it makes one wonder why we shave so regularly.  For me, I have been shaving for years, mainly because it is convenient (to just shave while I am in the shower on a daily basis) and also because I can't be bothered to take out my Epilator to remove my unwanted hair.  It's also pain-free which is an added bonus for  a lot of people.  This is probably the cheapest option about $100 on an annual basis, but it requires remembering to shave regularly!
Waxing
Waxing involves going to the salon regularly (on an every four to six week basis) to have your hair removed.  The cost can be high, especially after you factor in gratuity and tip to your aesthetician.  The lack of convenience involved is also a factor (having to make an appointment regularly).  Waxing can cost anywhere between $25 to $50 per area depending on the area you need waxed.  This can definitely add up over time.  Over a year, this can be $300-600 on an annual basis.
An alternative is to use a home waxing kit, however you'll have to be comfortable with pulling the piece of fabric off to remove the hair yourself!
Epilating
I have an old Epilator from years ago that still works perfectly fine.  An Epilator is like multiple broad based tweezers that remove hair simultaneously.  You don't need shaving cream but you just need a plug to plug in your appliance.  Using the Epilator, you will have hair free moments for at least 4-6 weeks without having to maintain it.  The hair will grow back thin as well because the Epilator removes the hair at the root. You can get one for example, from Wal-mart for around $100.  Some people find the pain of an Epilator too much to bear, however after a few hair removal episodes, the pain isn't as bad for sure.  The cost of an Epilator is anywhere from $50 to $100, which will last a while of course depending on the quality of your Epilator.
Lasering
Finally, laser hair removal might be an option for you if you have darker hair that you want to remove on a lighter skin tone (my friends who went through laser hair removal state that if you have this complexion you are more likely to see successful results).  The cost can vary dramatically and the quality of the laser hair removal can vary dramatically too.  My friend was able to get her underarms lasered for $400 (normal price $800 at that laser hair removal salon) when she used a Groupon and she has been more than pleased with the results.  They have not seen any hair regrowth and she has been to only half of the sessions.   The main thing is to ask for recommendations and look for a reputable laser hair removal salon.  Many places offer you a free patch test as a consultation.
Instead of going for laser hair removal, you could also buy a home-laser kit, for example, Tria, which there are discounts on the Bargainmoose coupon page.
If you think of $400 over the course of many years, laser hair removal definitely beats paying for waxing regularly.  One thing to be aware of is that apparently hormones during pregnancy cause the hair to regrow necessitating further laser hair removal after birth.  Laser hair removal definitely sounds like a good option, however, at this point I am going to stick to my Epilator for now.  For further information on laser hair removal, you can check out this informative post by twenty something living.  Also, if you prefer to DIY at home, check out this Beyond Talk post on how to get rid of unwanted hair in the comfort of your own home.
Bargainmoosers, what have you tried and what have you found was the most money and time-saving choice for hard removal?
Photo credit: Kate Sumbler