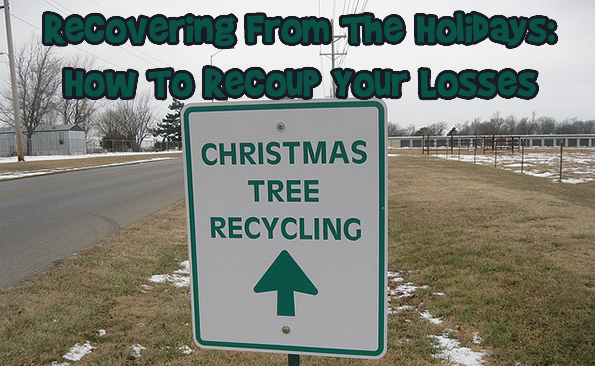 Christmas and New Year's Eve are over, and if you're like me, you are left with massive bills from the holidays.  Year after year I overspend on family dinners, presents for the kids and holiday parties.  I mean, I HAD to buy a new dress for my work Christmas party, and a signature cocktail for our Christmas Eve dinner party was an absolute must (yeah, right).   These are just a few of the financial impacts that I have to recover from, and this doesn't factor in the physical destruction that has happened to my body.  I was perhaps in the best shape of my life at the beginning of December (ok, maybe not the best shape of my life, but definitely the best shape since the birth of my children).   Now I am 10 pounds heavier, thanks to the copious drinks, snacks and sugar I over-imbibed in through the holidays.   Emotional, physical and financial recovery from the holidays will take some time to recoup and here are some tips to get there.
Budget for next year
Once we are caught up with our bills, I am going to use Gail Vaz Oxlade's magic jar budgeting system to start saving for next year's Christmas expenditures.  I plan to set aside $100/pay to put aside for presents and Christmas expenses so I'm not once again hit with a huge mastercard bill at the end of Christmas.  Check out this article on saving money at Christmas for tips on how to save for next year's Christmas festivities.
Make it right with your spouse or loved one
I know I take my husband for granted through the holidays.  Family events can be stressful, and I can be an absolute bear due to the pressure and stress.  That, combined with the fact that my husband is an introvert, we are usually exhausted by the time the holidays are over.  We were lucky a few nights ago, we were planning on going to see Catching Fire, but it was sold out.  Let me explain why we were lucky given that the movie we wanted to see was sold out:  it gave us a chance to hang out and talk.  We had a few hours of uninterrupted kid-less time, where we debriefed on what had happened during the holidays.  We also planned ahead for the next few days.  It was a much needed break.  We are also very fortunate, we are going on a child-free cruise at the end of March.  I can't wait to spend a week with just my hunky hubby and myself.  When my marriage is strong, the rest of my relationships are stronger too.  It's worth the investment of both time and money to spend quality time with my husband.
Come up with a payment plan
Given that I have a large mastercard bill, I now need to come up with a payment plan so that the excessive interest charges don't stick with me forever.  The first thing I did was pay off as much as I could, and the second thing I did was to transfer the debt to my line of credit.  Although I'm still paying interest on my line of credit (1% above prime), at least it isn't the 19% interest rate of my credit card.  If you don't have a line of credit, contact your bank to see what options you have, and contact your credit card company to ask about options for your credit card interest rate.   These days there are a lot of different credit cards to choose from, and there are a few which have a low interest rate.  If you make frequent purchases and aren't able to fully pay off your credit card each month, perhaps a low interest rate card is the best choice for you.  Check out MoneySense's article on the best credit cards in Canada for 2013.
Use Air Miles and rewards
Since cash is sparse during January and February, I use airmiles.ca to cash in rewards.  Through Air Miles I can get grocery (Metro) gift certificates and can pay for my gas through them as well.  My birthday is coming up, and one thing I like to ask for is for my family to give me Air Miles gift certificates for groceries and gas.  The other thing we like to do for birthdays is make them "free" days.  What I mean is that because there are so many freebies you can get for your birthday, I have a personal goal of not spending any money on my birthday, and to take advantage of all the great deals.  Typically, I will get a movie gift certificate for my birthday from my parents, and I always get free cosmetics at Sephora.  I usually hit up Marble Slab for a free ice cream, and sometimes Boston Pizza for a free dessert.  Think I'm crazy?  Maybe, but it's actually a really fun way to spend the day!
Get in shape
Like I said earlier, my workout schedule was greatly reduced during the holidays, and I ate a lot more sweets, fatty foods and junk food.  I'm guessing that I have gained almost 10 pounds (yikes).  I have worked hard over the past 2 years to lose almost 50 pounds, so it's time to get back in shape.  Check out this article about how to lose weight on the cheap.  I am going back to eating clean and checking out such websites as bodybuilding.com for new workout routines and supplements.
Sell stuff online
There is lots of information online about how to sell stuff online.  We have sold a number of items over the past few months, in an effort to reduce clutter and make a bit of extra money.  We find using kijiji is an easy and effective way to sell our stuff.   Perhaps you got some presents that aren't a fit, and you'd like to make money on them - list them on kijiji!
The holidays are a joyous family event filled with love, celebration and food.  While I don't wish to negate the importance of the holidays, I need to do better at budgeting for them.   Hopefully the tips above will help me prepare for next year, and to recover from this year.  Please share your holiday recovery tips in the comments section below.
(banner image credit: sdminor81)