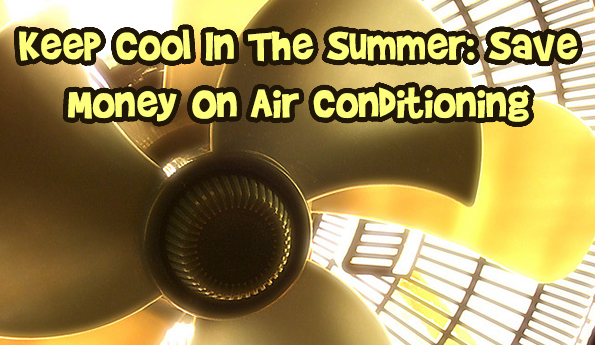 With the summer weather in full swing, many people are having to turn on the central air conditioning because they can't sleep at night without it on.  Air conditioning, much like heating your home in the winter, can suck up a lot of energy, pollute the environment, and most importantly, it can put a dent in your utility bill unnecessarily.  According to Wikipedia, 88% of single family homes constructed in 2011 in the United States have built in air conditioning, along with 99% of homes in the Southern United States and 62% of homes in western United States.  That's a lot of air conditioning (and a lot of energy use)!  Of course, if you (like me) don't have air conditioning in the home, these tips will help you keep cool. I am happy that I do not have air conditioning; I keep the thermostat at zero in the summer and enjoy my low energy bills.
Here are a few ways in which you can save money on air conditioning, by having to avoid the need to turn air conditioning on.
Close the Windows
Contrary to popular belief, if you close your windows during the day you will keep cooler than if you opened them.  If you think about your home like a container that absorbs heat, when you open the windows it allows the heat to get into your home and stay there.  This also applies to closing your blinds and shades once the sun rises, since the suns rays will heat up your home if you leave blinds and shades open.
Of course, this is easier said than done, because who doesn't want to keep their window open to smell the fresh air, see the blue sky, and hear the birds chirp?
Use a Fan
Fans are a great way to keep cool and use significantly less energy than air conditioning.  For example, a ceiling fan uses about 10-100 watts of energy whereas a central air conditioner uses about 2000-3000 watts of energy (source:  Yahoo Shine).  That is at least 200 times the amount of energy!
If you don't have a ceiling fan, stand-up or table top fans are great too. Another way to maximize your fan is to put a bowl of cool ice in front of it to circulate cool arctic frozen air.  How fun is that?
Check Your Lighting
If you haven't already, switch your regular joe incandescent light bulb over to compact fluorescent light bulbs (CFL's). If you think about it, over 90% of an incandescent light bulb's energy is wasted on heat instead of producing light (source: eBay Green).  When you have a whole household full of incandescent light bulbs, that's a lot of energy wasted and a lot of unnecessary heating in your home.  Of course, make sure you turn off any lights or electronics that you do not need turned on to save on energy and to prevent any unnecessary heating in your home.  When your electronics are in standby mode, they still emit heat unfortunately.

Insulate Your Home
This strategy and home improvement is a win-win for both summer and winter, so it's a no-brainer to implement.  Attic insulation can help keep your home cool by not allowing the cool air to escape. Although this does not necessarily decrease the heat in your home per se, it helps keep it cool.  According to Good Housekeeping, if you have central air, you should make sure you use seal ducts at vents and registers to prevent the cool air from escaping- if you do not do this, you can allow up to 20% of the cool air to escape.
In addition, Conde Nast also recommends that you seal your air leaks with caulk.  A simple job (grab a caulking gun at your local hardware store) will give impressive results.

Cool Down with a Drink
Despite using these tips you may still want to turn on the air conditioning.  If all else fails, head to your local lemonade stand and support your neighbourhood budding children entrepreneurs!  I love seeing children sell lemonade- wish I did that as a child.
Bargainmoosers, what is your favourite tip to keep cool in the heat of summer?
(banner image credit: Kenneth Lu)
wishes