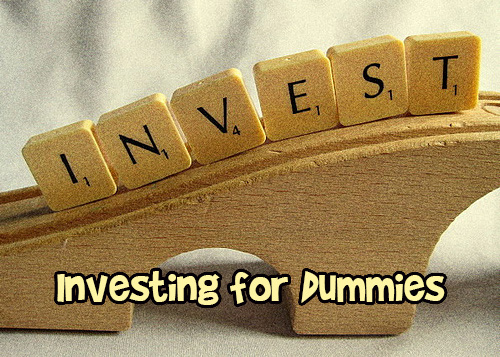 I admit it, I am an investment dummy.  I dream about what it would be like to have knowledge about the stock market, to be able to contribute to work conversations about bonds, the stock market, etc.  But above all, I dream about having money set aside for the future.  Money that is actually working FOR me.  Investing is very overwhelming to me.  I feel like there is a plethora of information available, and I don't know where to start.  Investors make commissions based on what they recommend to me, and I don't know who to trust.  I go through a vicious circle of being interesting in investing, then I get overwhelmed, then I abandon the idea of investing and continue along my merry way.  Sound familiar?  I titled this article "Investing for dummies" because I really am a complete newbie when it comes to investing money.  I have some money in RRSPs from a company plan from the last company I worked for (I haven't made any additions to these funds in the past 3 years, and I have no idea which funds they are in).  I also have some money in RESPs for my kids through my bank.  I know that it is invested in an aggressive fund, as that's what my banker told me to do.  My money is in different places, and I have no logical reasoning as to why it is where it is.  I need to get serious and take control of my money.  Below are some helpful hints I have learned along the way.
How to get started
To be honest, I don't know the difference between a stock, bond or index fund.  And when people talk about these things around me, I start to daydream, and I want to curl up in a fetal position.  In order for me to be successful with investing, I need to understand the nuts and bolts of personal finance.  I started to do some research on this, and man, is it ever difficult to get really clear, easy to understand information for beginners!  As little as I know about investing, for some strange reason, I subscribe to Moneysense magazine.  Honestly, I think I enjoy reading it as it makes me feel pretty good about my own financial situation.  MoneySense talks a lot about something called the couch potato strategy to managing money.  In essence, it is a fairly hands-off, low-cost, method of investing that uses index mutual funds and exchange-traded funds (EFT's).   The Motley Fool is another great website with a step-by-step guide on investing in stocks.
Here at Bargainmoose, we have some great articles on personal finance to get you started.  We have articles ranging from advice about personal finance in your 30's, personal finance in your 20's, and investor best practices.
What level of risk taker are you?
You need to determine what type of investor you are, through determining how much risk you are comfortable with.  This dummies questionnaires will help determine how much risk you can accept and what type of investor you are.
Generally, the longer the period of time until you need the money you are investing, the more risk you can take on in your investments.  For an example, a 35 year old woman who has 30 years until retirement has a higher risk tolerance than someone who has 5 years until s/he is ready to retire.  These calculators also assess how risk adverse you are.
How much should I invest and how much can I afford?
Gail Vaz-Oxlade is a Canadian expert on money management, and I love her shows including Princess and Til Debt Do Us Part.  Before you can figure out how much you can afford to invest, you should consider your overall financial fitness.  Although Gail doesn't devote a ton of articles on her website to investing, she has many, many excellent resources on her website, including an amazing budget worksheet.  Although it's an American website, investopedia has some good article on investing, including figuring out how much you want to invest.
Government incentives and tax breaks for certain investments
There are numerous government incentives and tax breaks for investments.  Check out this wiki about being tax efficient in your investments.  For instance, did you know that when you contribute to an RESP, the government contributes something called a Canada education savings grant of 20% annually to all RESP contributions you make annually, to a maximum of $500 for each beneficiary?  It is worth the few minutes it takes to learn about government incentives and tax breaks for investments.
Invest in your company's RRSP matching program
If your company offers any type of RRSP matching program, you should consider making contributions to it.  Any type of matching program gives you a guaranteed return on investment, so you should strongly consider contributing to your company's RRSP plan.
In conclusion, having the right outlook on investing in important, remember that investing is a marathon, not a sprint!  There are lots of investing simulators to use when planning where your money is going, and what it will be used for.  Make sure that you take time to consider what your goals are, and when in doubt, hire a financial planner to help you.
Bargainmoosers, do you have any tips on investing?
(Photo Credit: WonderWebby)