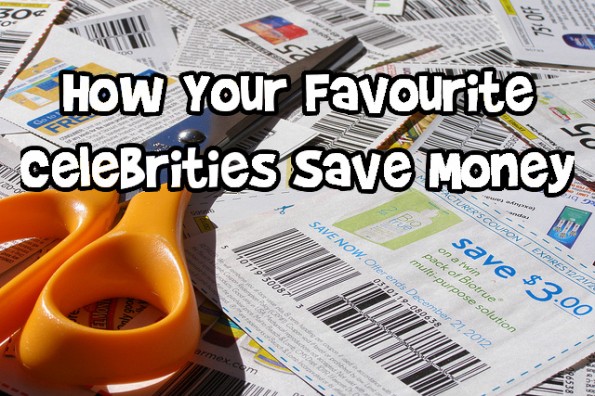 Celebrities saving money? I know, right? Why would you even need to deprive yourself when you can literally have anything you want? Still, it's nice to know that, in some respects, some of them are just like us. I guess it's comforting.
Besides, just because you get famous doesn't necessarily mean you have to live like a baller all the time and I'm sure those money saving habits that served them well when they were struggling actors are hard to break.
After all, fame is fleeting – one minute you're living high on the hog and the next you could be eating Kraft dinner again, so maybe these money saving habits are good for the Jennifer Lawrences and the Lena Dunhams of the world to know, in case they ever lose their appeal as the "It" girls of the moment.
Below you'll find some of Hollywood's finest and their average joe strategies for saving money
Zooey Deschanel Saves More Than She Spends
During her 2012 divorce from Ben Gibbard, the lead singer for Death Cab for Cutie (duh!), court documents revealed that she was waaaay in the black. According to Huffington Post, she saves 76% of her income, has absolutely no debt and has put away $1.58 million in the bank with even more money tied into an investment portfolio.
My financial advisor would applaud those numbers, but I guess it's easy to put a little away into that emergency fund when you make $95,000 a month.
Sarah Michelle Gellar Clips Coupons
So, it turns out that when Sarah Michelle Gellar wasn't slaying vampires on Buffy the Vampire Slayer, she was slaying flyers and coupon books with a pair of scissors.
In 2012, the actress admitted to Self Magazine that she clips coupons saying, "I clip coupons all the time. Why should you pay more for something that someone else is paying less for?".
Yes, why should you, Sarah? That's the question we ask ourselves all the time at Bargainmoose and we're glad you share those sentiments.
I wonder if she'd start going all Buffy on the grocery clerk or dry cleaner if they refused to redeem that 20% off voucher?
Hilary Swank Buys in Bulk
This two-time Academy Award winner is another actress who says she sees coupons as "a dollar in her pocket," but that's not all she does to save money. The actress also buys toilet paper and toothpaste in bulk, even though she's more than financially secure.
These habits aren't so unusual, especially for her. In her earlier life she lived hand-to-mouth in a trailer park in Bellingham, Washington and we all saw her chow down on a burger just after winning her first Academy Award for Boys Don't Cry. It's easy for her to be one of the boys, as her penny pinching practices are so engrained, she's not above getting her hands dirty if it will save a few bucks. In 2010, she told Regis and Kelly this:
"When you open up the paper and you see those coupons, it looks like dollar bills staring you in the face. . . . It's how I grew up. Why not?"
Sarah Jessica Parker Will Not Spoil Her Children
Though she has a weakness for Manolo Blahnik shoes – owning over 100 pairs – SJP insists that she's the complete opposite from her shopaholic character Carrie Bradshaw on Sex in the City. The Daily Scoop reports that she went to the school of hard knocks, living on welfare while growing up in a family of eight.
In a 2008 interview she's said that she didn't by her son new clothes when he was younger. Instead, he wore hand-me-downs from his older cousins.
"James only wears hand-me-downs because I've got all these older nephews…Plus my mother saved all my brothers' clothes…I think it's incumbent on my husband and me to really stress and to show James Wilkie by example what it means to owe your community something and that he is not entitled to the benefits of our hard work."
Kristen Bell is No Bridezilla
When Kristen Bell and Dax Shepard got married there was no Hollywood wedding. The whole affair only cost $142 plus gas. She told Jay Leno that it almost didn't happen because even though they filled out the paperwork, the couple forgot to find someone to officiate the wedding so they had to scramble to call their friends (some of them were ordained) to find someone.
The friend that finally came through was actually in the same courthouse and after the deed was done, the new Mr. and Mrs. Shepard joined their friends at a local restaurant where they were presented with a cake that proudly proclaimed, "The World's Worst Wedding."
The two wouldn't have it any other way. Shepard told Jimmy Kimmel, "How many people can say they threw 'The World's Worst Wedding?'"
Just you and Kristen, Dax. Just you and Kristen.
Photo credit: Chris Potter